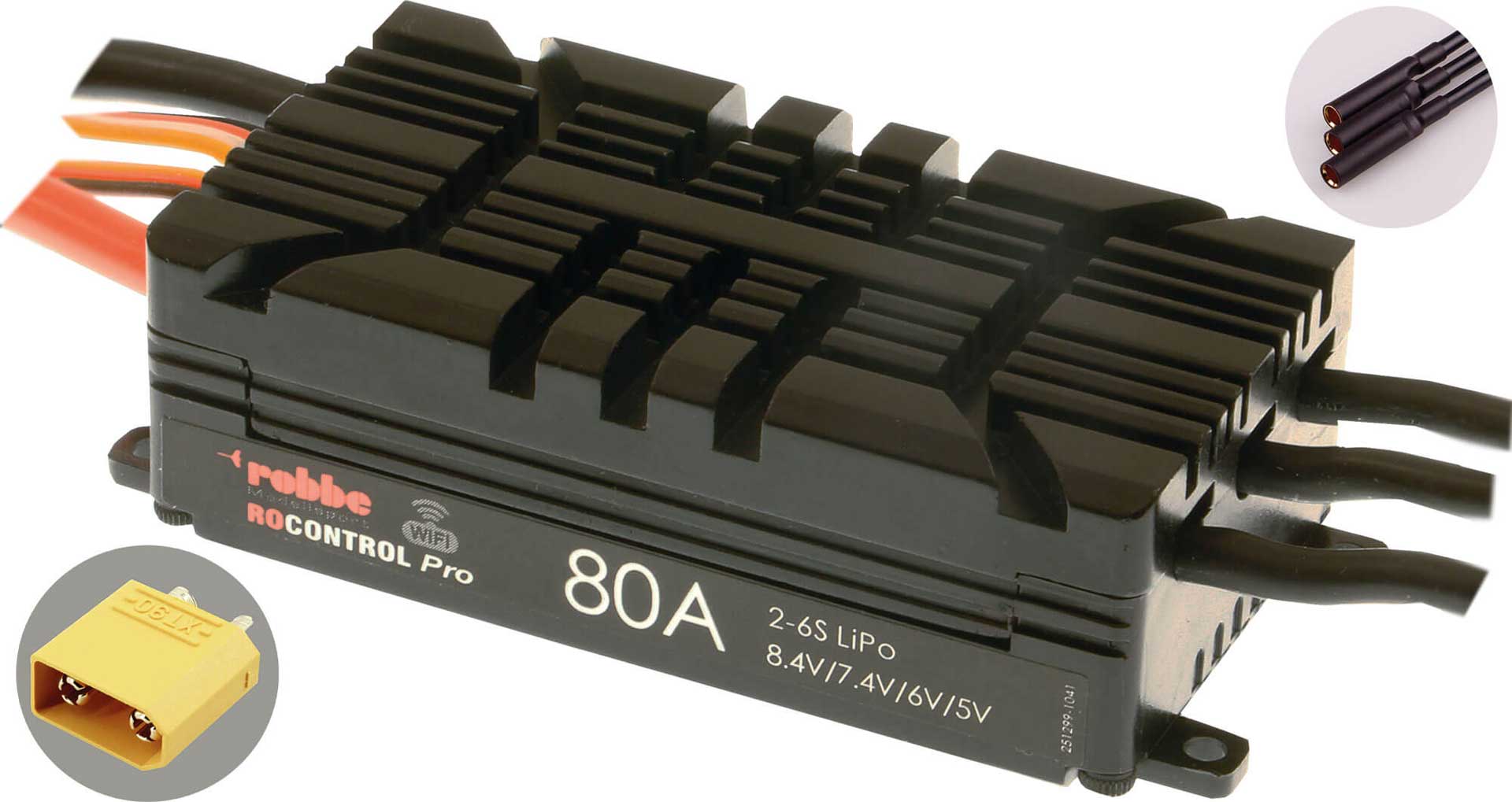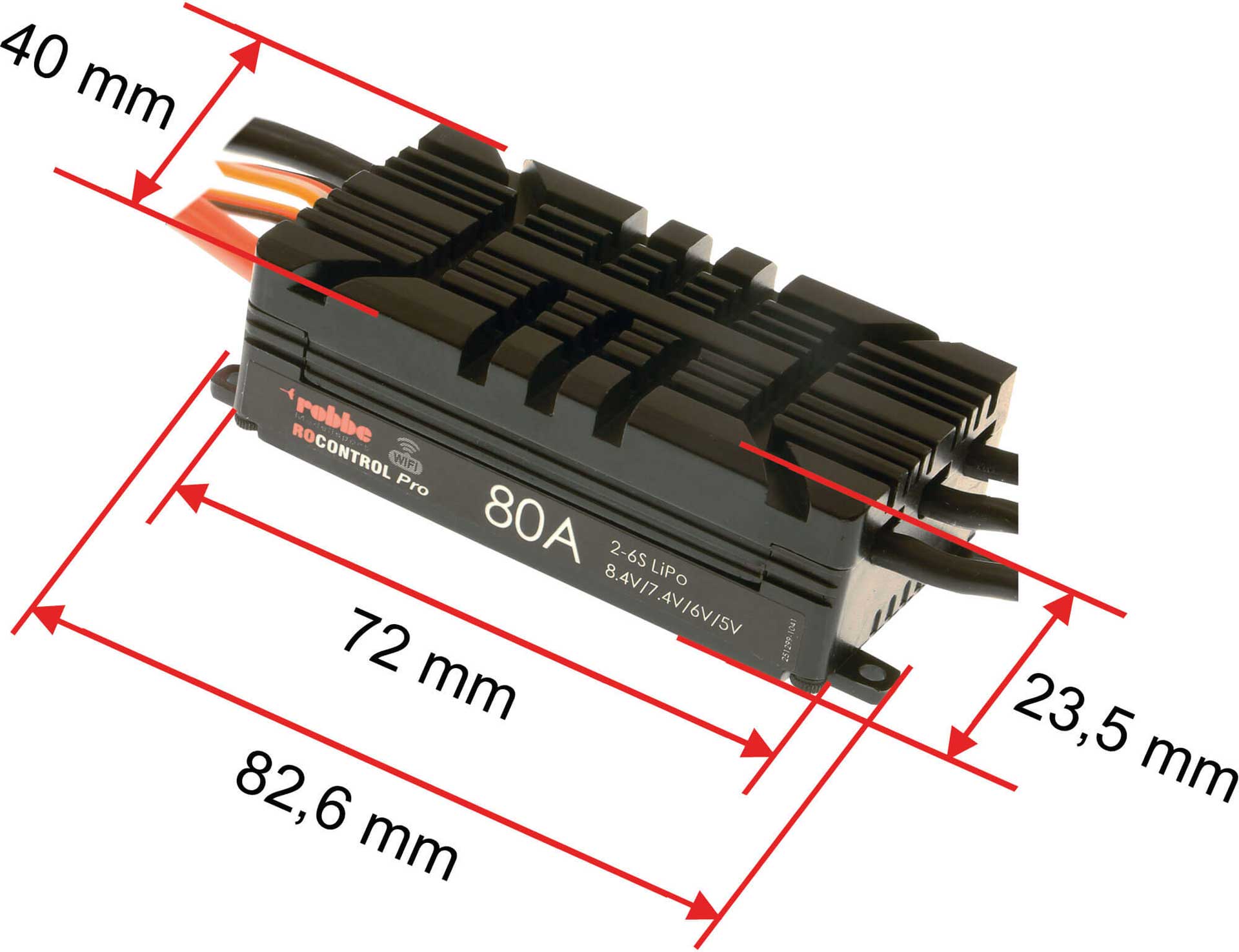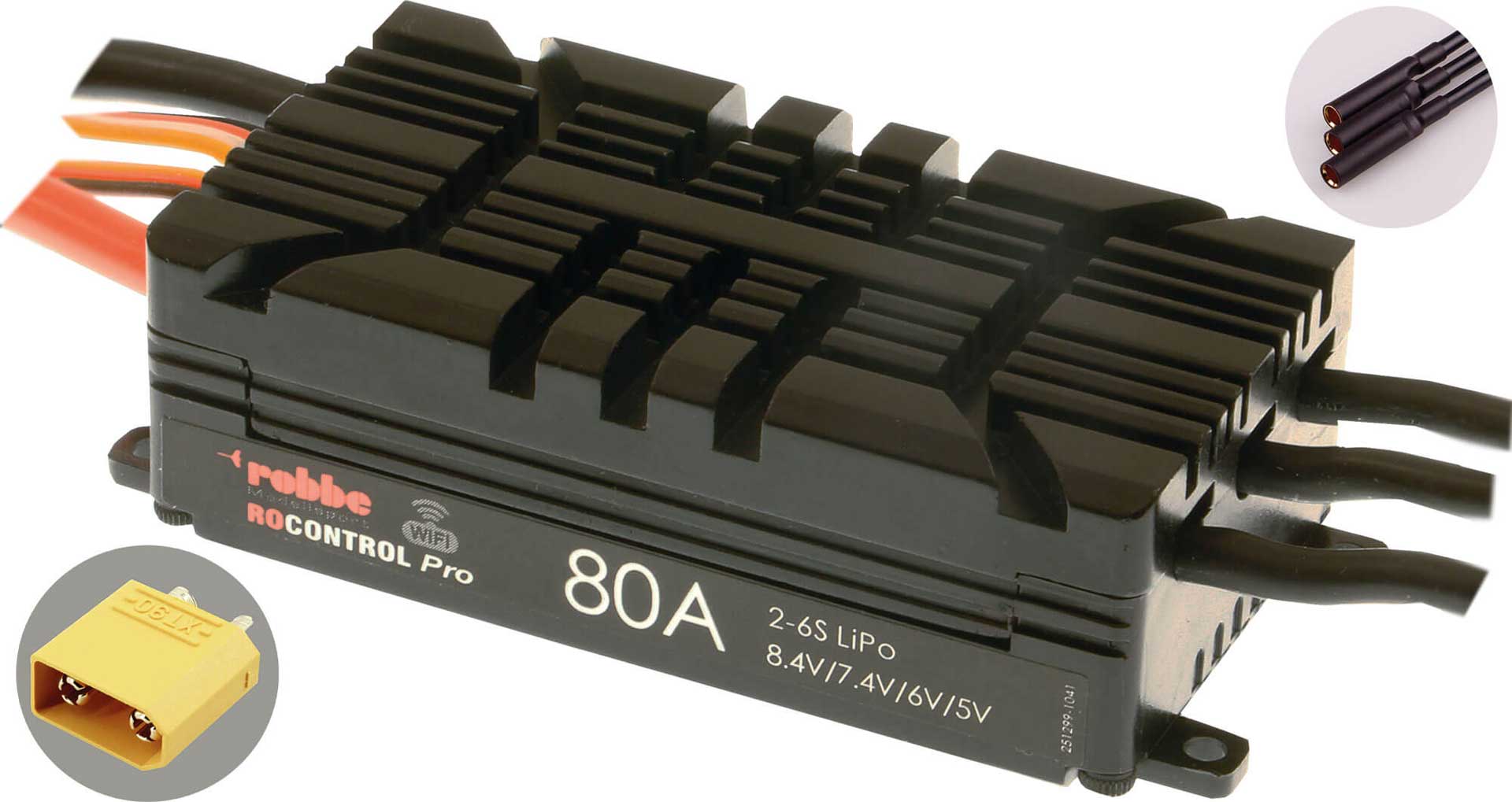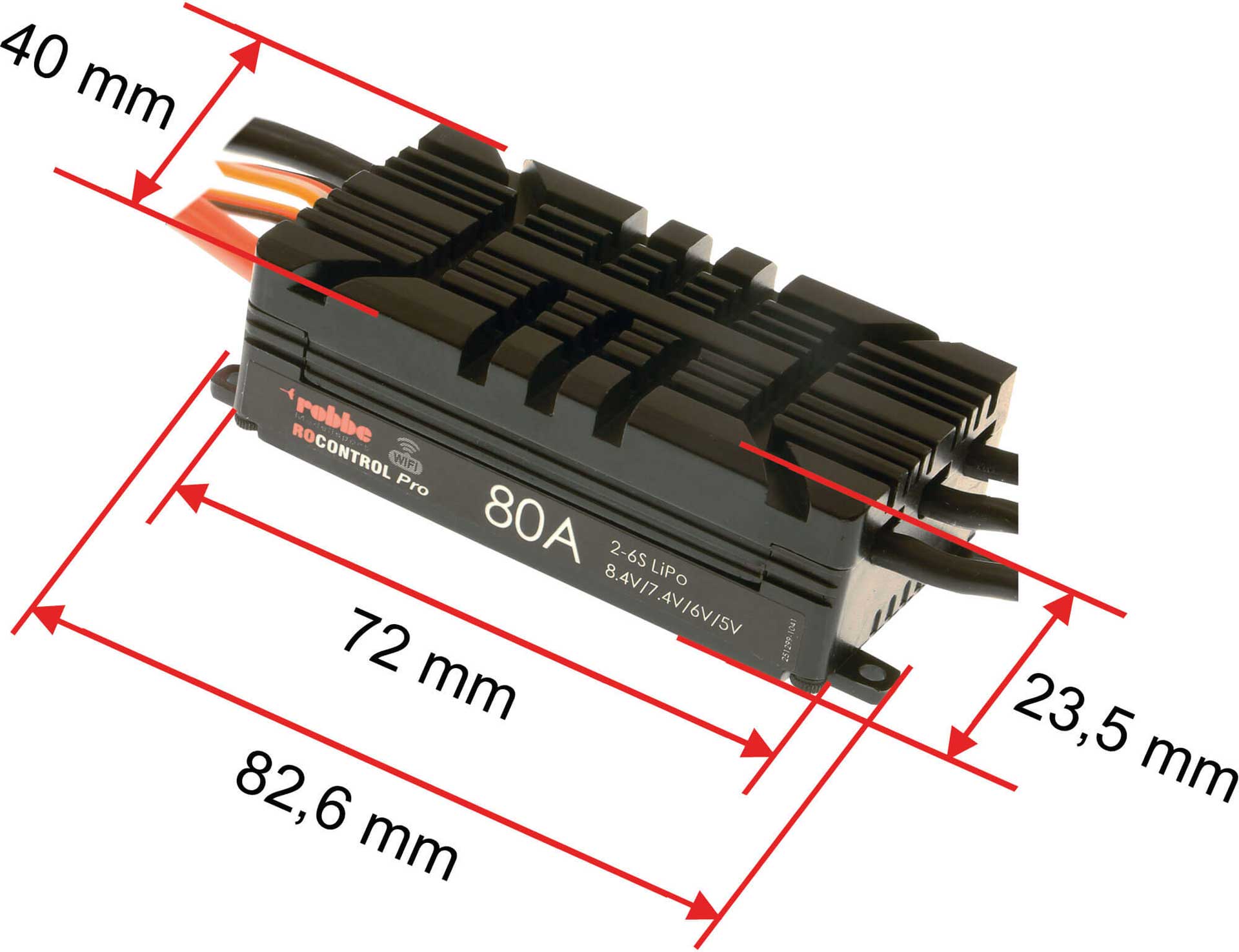 In stock. Usually ships within 1 business day.
Downloads
Description "ROBBE RO-CONTROL PRO WIFI 2-6S 80A HV-BEC XT-90 /4mm Gold contact sockets"
The
Ro-Control PRO WiFi controller series
is a new series of high performance controllers with a strong HV-BEC for modern applications, especially in connection with models with HV servos.
The greatest feature is the versatile, intuitive
programmability via WiFi and Smartphone App
. For more precise tuning, even live data can be transmitted to the smartphone in almost real time at close range.
The large-surface heatsink ensures best heat dissipation to guarantee highest reliability even during continuous partial load operation.
The
Ro-Control PRO WiFi controllers
also feature a special mode for helicopters. The 80-130A controllers also have a switch for reversing the direction of rotation (thrust reversal).
Properties:
- High performance controller for wing and helicopter models
- Powerful microprocessor
- Soft and prompt response of the controller function
- Higher efficiency, longer flight time due to ASCF (Active Switch Continued Flow) technology
- Efficient heat sink, lower operating temperature and reliable operation even at partial load
- Intuitively programmable with Robbe Smartphone App (optional WiFi module required)
- Live data display in App (voltage, current, speed, throttle position)
- 4 different braking modes
- Soft start adjustable (normal / soft / very soft)
- LiPo low voltage protection adjustable (low / medium / high)
- Timing adjustable (0° - 26,25°)
- Helicopter controller mode (off, low/high speed)
- Thrust reverser by switch
Download the free app for your Android phone here:
Android_App
Download the free app for your iOS phone here:
iOS_App
Technical data
| | |
| --- | --- |
| BEC: | 8,4/7,4/6/5V/5A |
| BEC oder OPTO: | BEC |
| Cells: | 2-6 Lipo |
| Cont A: | 80 |
| Dimensions (mm): | 72/40/23,5 |
| Max A: | 100 |
| Typ: | Brushless |
| Weight (g): | 133 |
Box contents
Plug motor side: 4mm gold contact
Die Firma ROBBE (benannt nach dem Firmengründer Robert Becker) wurde 1921 in Deutschland als Sägewerk im Vogelsberg-Gebiet gegründet. Mit dem Modellbau wurde ab 1945 begonnen, zunächst mit dem Import von Balsaholz. Ab 1958 bot ROBBE ein komplettes Programm für den Modellbau an. Dazu gehörten viele Innovationen im Bereich Fernsteuerungstechnik, aber auch moderner Kunststoffverarbeitung. Viele bis heute legendäre Produkte sind dieser Zeit entsprungen. In den 60er Jahren entstand eine enge Kooperation mit einem japanischen Fernsteuerungshersteller. Dazu gesellten sich mehrere Distributionen in vielen Bereichen des Modells. Unter anderem im Bereich Hubschrauber durch dir Übernahme der Marke Schlüter. Bis 2015 war das Unternehmen Robbe Modellsport GmbH & Co. KG im deutschen Grebenhain (Metzlos – Gehaag) ansässig und musst in diesem Jahr schließen. Aktuell befinden sich Produkte der Marke ROBBE im Vertrieb eines der größten europäischen Modellbauhändler.