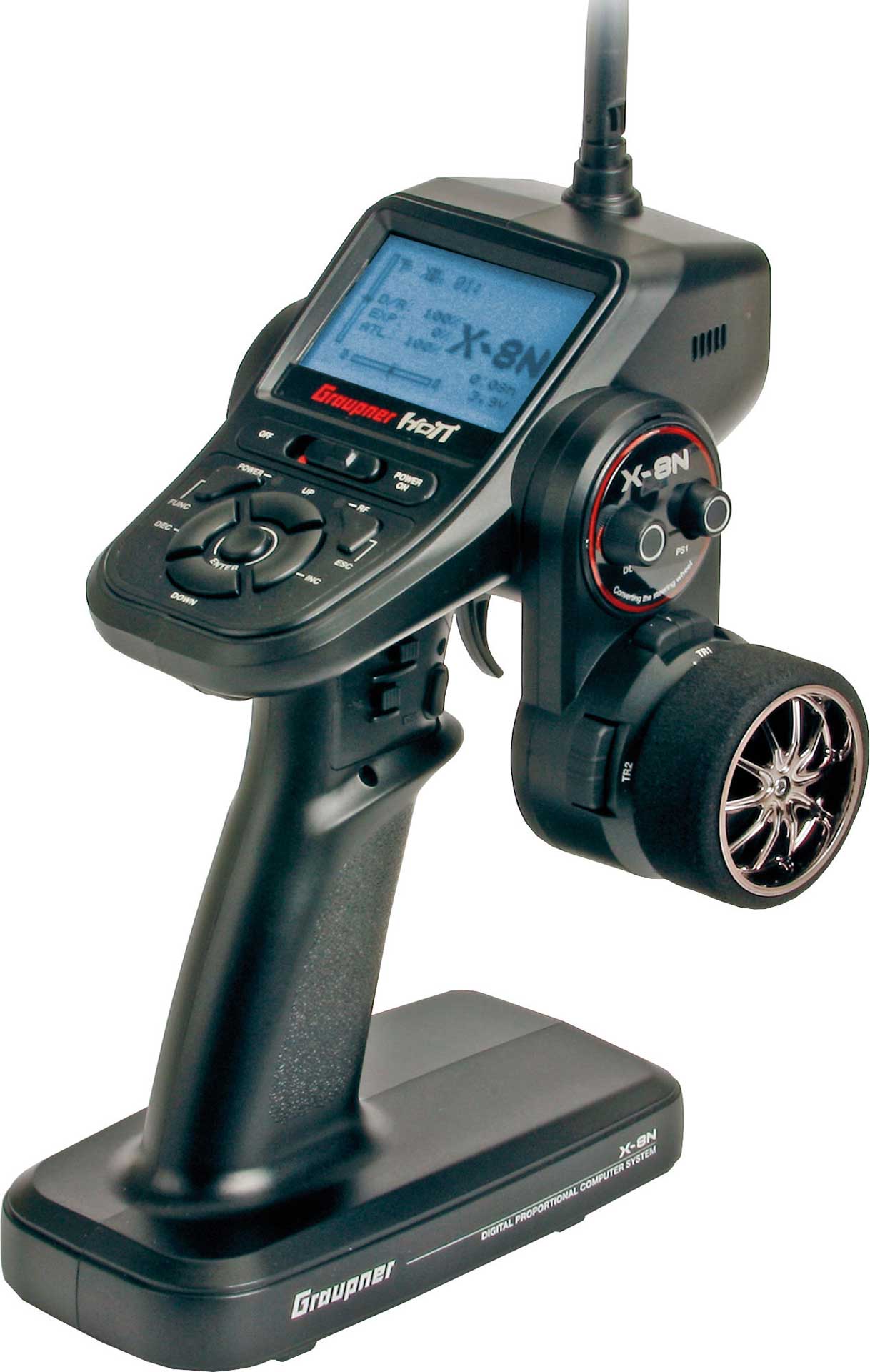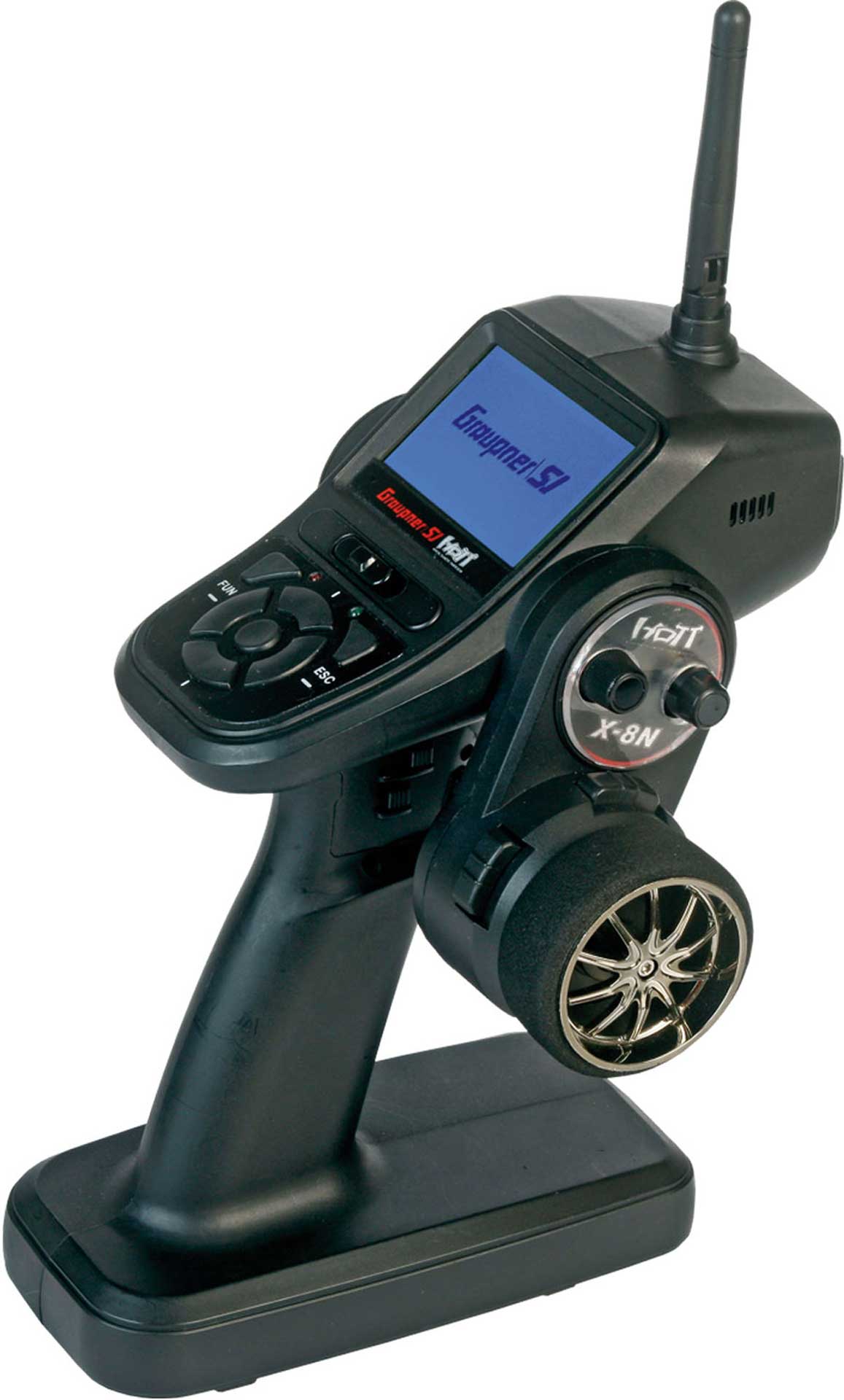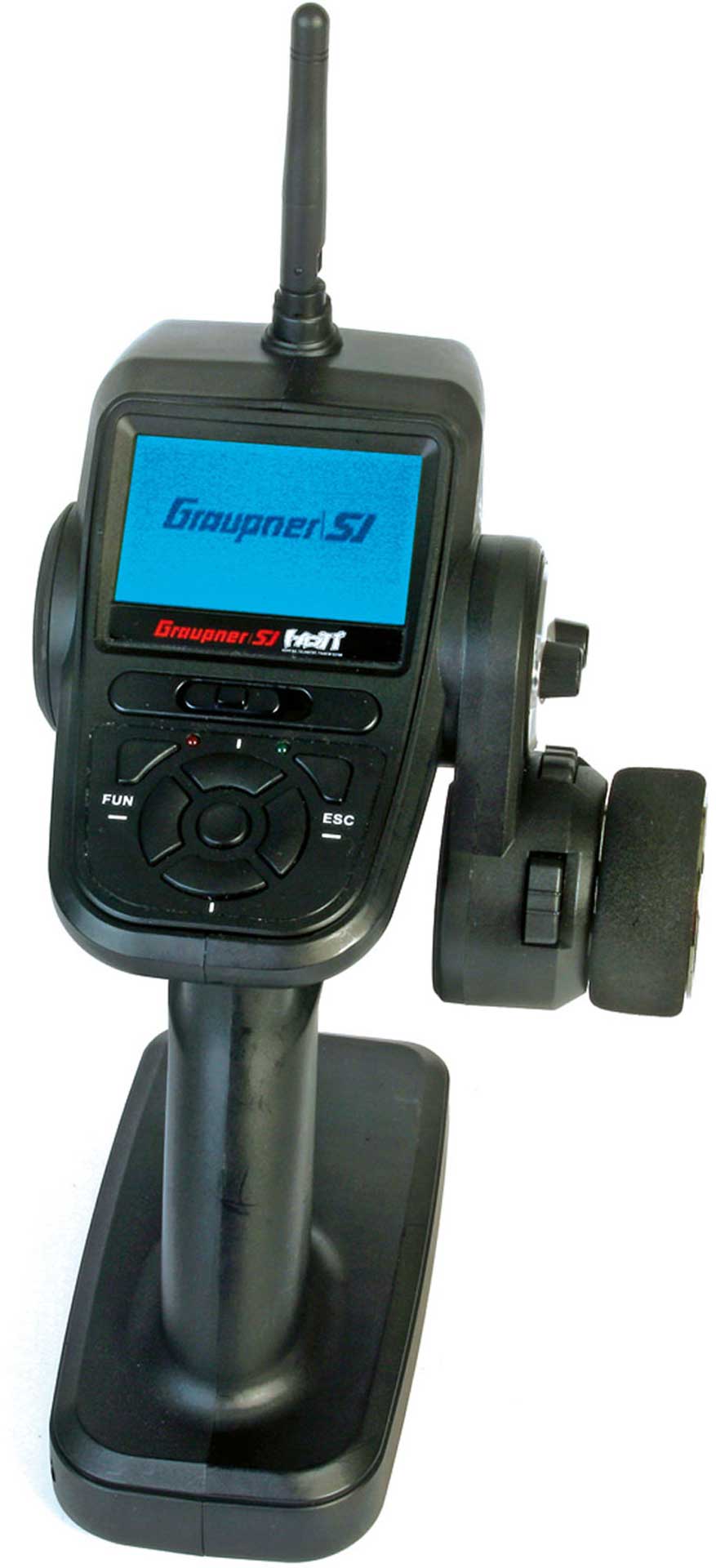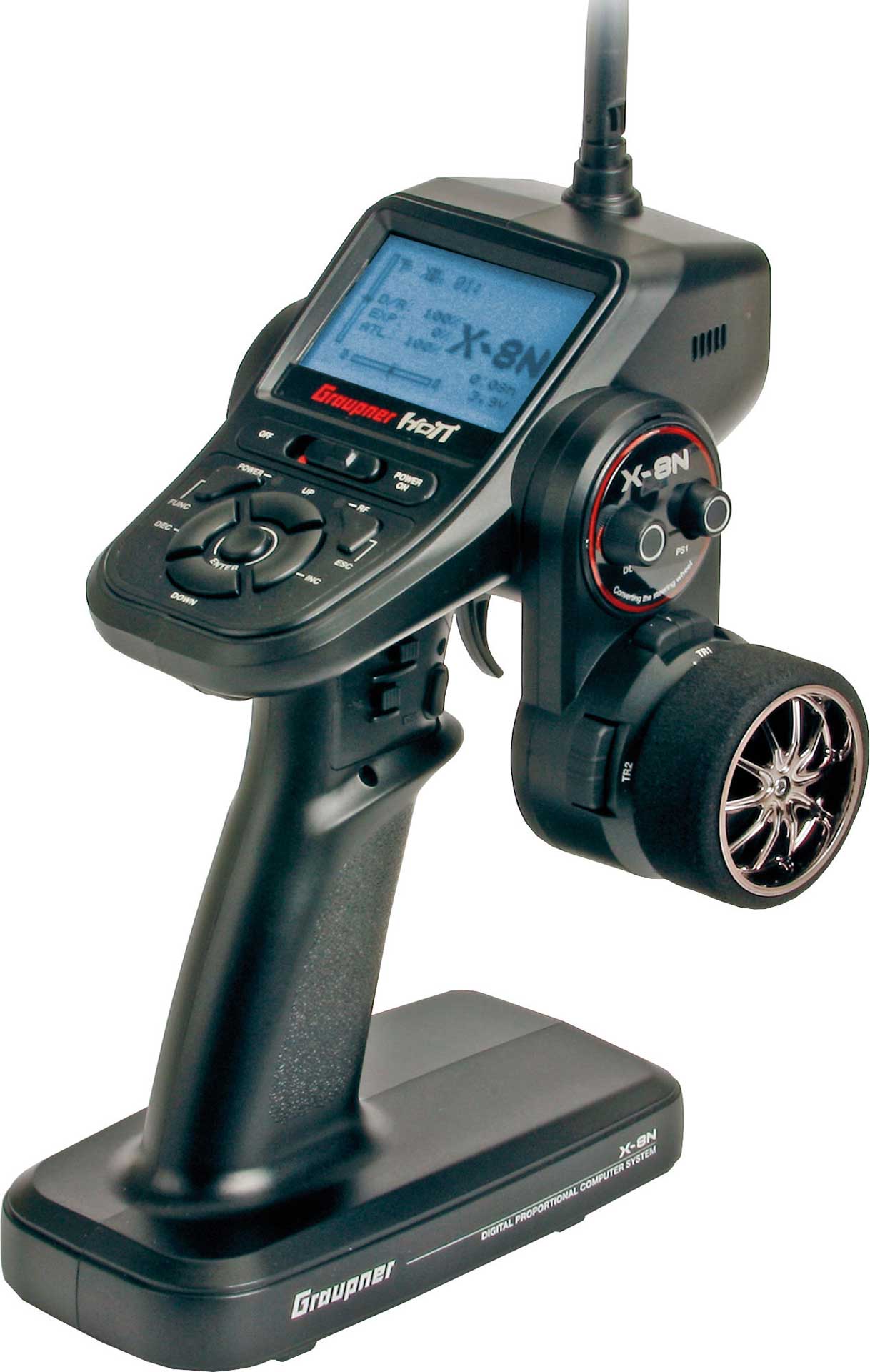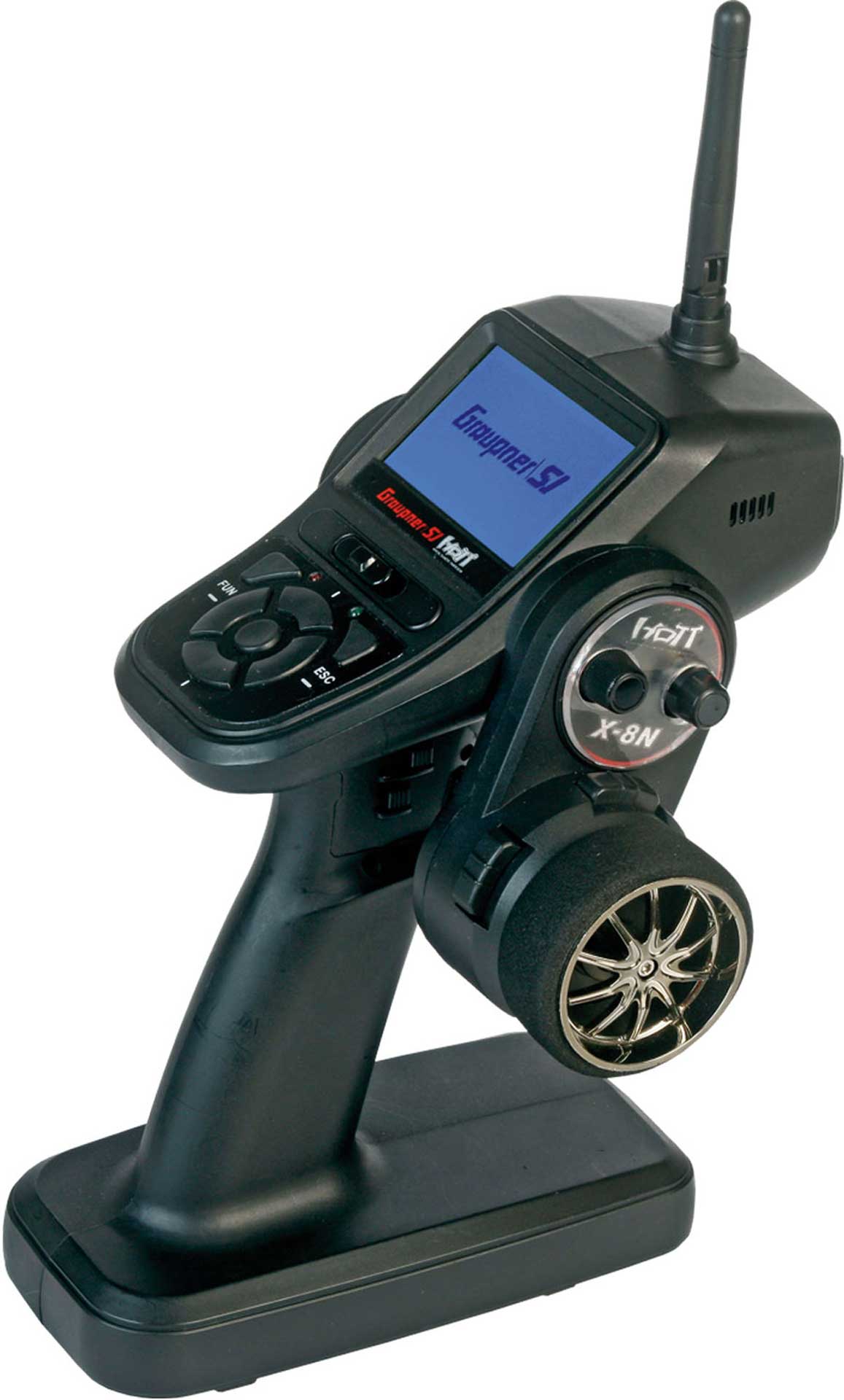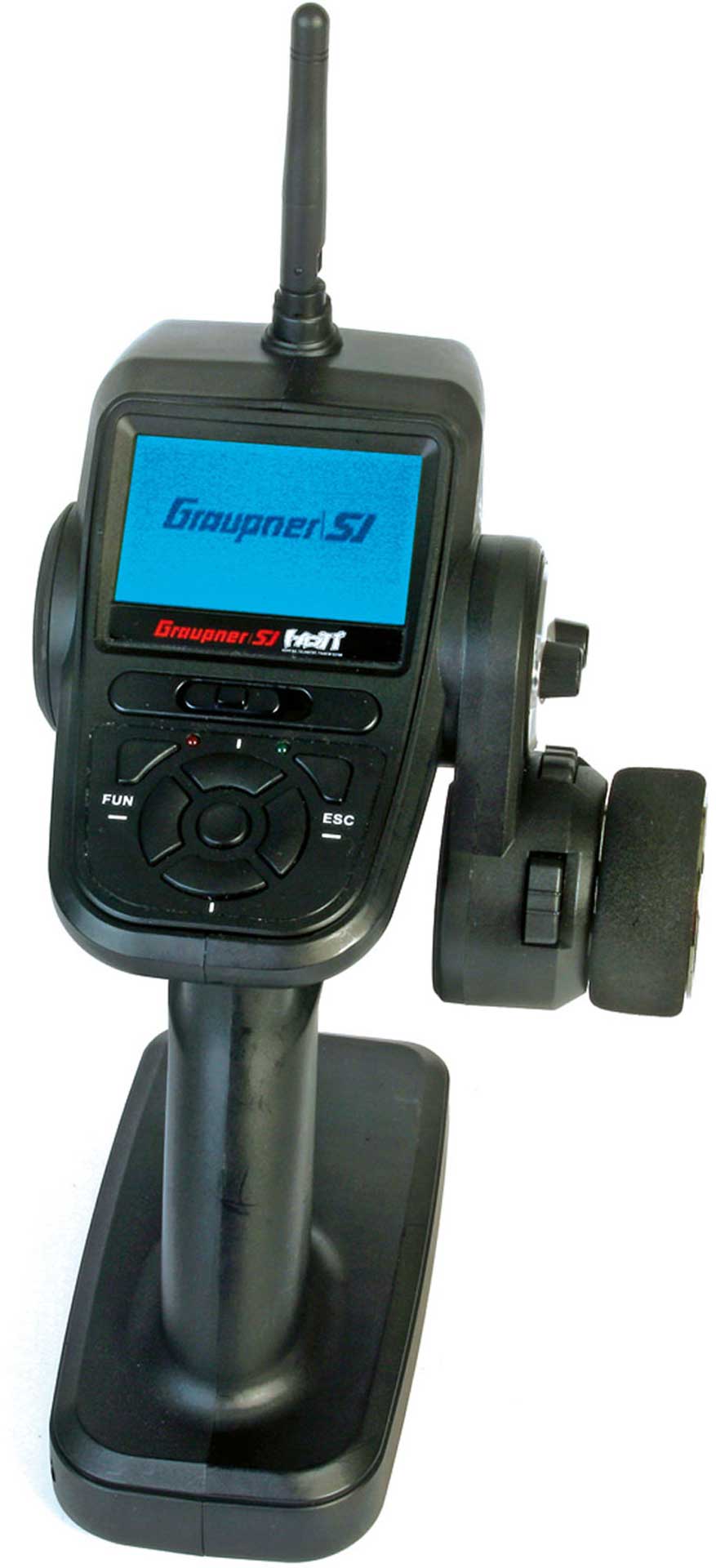 In stock. Usually ships within 1 business day.
Downloads
Description "GRAUPNER X-8N 2,4GHZ HOTT TRANSMITTER"
Bitte beachten Sie, dass derzeit ein Versand dieses Artikels nur in folgende Länder möglich ist: Österreich, Deutschland, Schweiz, Frankreich, Italien, Irland, Belgien, Bulgarien, Dänemark, Finnland, Griechenland, Großbritannien, Kroatien, Luxemburg, Niederlande, Norwegen, Polen, Portugal, Rumänien, Schweden, Serbien, Slowakei, Slowenien, Spanien, Tschechien, Ungarn.
The X-8N is a competition-grade radio for cars, boats and tank operations. If you are looking for a radio that is packed with features, real-time voice telemetry and dozens of add-on expansions, then the Graupner X-8N is the radio for you.
The X-8N is powered by a 4000mAh that provides hours of operation. You are always connected with your vehicle through built-in voice telemetry capabilities that relay real-time information of main pack/receiver voltage, engine/receiver temperatures, and RF signal quality.
When used in conjunction with our GM Racing line of telemetry speed controllers, the X-8N enhances your racing experience with real-time motor information like RPM, speed, and current/remaining battery capacity. These parameters can be configured to inform you of important changes to your system, such as low battery or high temperatures that require immediate attention.
Ease-of-use is further enhanced by allowing you to configure directly from the radio all our telemetry and product settings (such as GPS, servos and ESCs). Programming cards and computer links are no longer needed to setup or make quick changes to the system. Just use the X-8N wireless access features and you will be up and running in no time.
The X-8N provides a complete data log for each race, storing all critical information on the SD memory card which can be analyzed to improve your system's reliability and performance. With free Graupner Update Studio downloads you can view your model data on the screen and oversee all aspects of your time on the track! If you want to further enhance your X-8N radio you can add the Bluetooth Module (P/N S8351) for Android phone or tablet, allowing you, your spotters and your fans to follow a real-time overview and progression of your race.
Features:
4 Channel 2.4GHz Graupner HoTT technology
Bi-directional communication between transmitter and receiver
Adjustable steering wheel angle
Removable steering wheel position for left hand use
Trims can be moved for left and right hand use
Adjustable gas and brake lever
Wireless telemetry setup and programming
Headphone jack
Real-time voice announcements
Micro SD card for telemetry data recording
New GR-8 receiver supporting SUMD V2 bus system
Selectable frame rates: 1.5ms, 3.0ms, SUMD V2 3.0ms, 6.0ms, 12.0ms and 24.0ms
4 wheel steering mode with dual ESC
Ultrafast response times through direct data transmission from the main processor
Multiple model copy functions including to SD card
Super dual rate and expo menu
Clocks for refueling stops and running time
Round time stop function
Servo speed settings
Throttle travel settings
Brake settings
Anti-locking system for the brake
Mixer and brake mixer
Special mixers and modes for crawlers, track vehicles, and boats with two motors
Telemetry can be switched off for competition
Programmable Failsafe
Box contents
HoTT X-8E transmitter
NiMH 2000 mAh transmitter battery
transmitter charger
update cable
Graupner, based in Kirchheim, Germany, was founded by the family Graupner and, up until March 2013, operated under the third Graupner generation from Stefan Graupner. In March 2013, the company was purchased by the manufacturer of Graupner HoTT RC Transmitter Systems. Graupner covers a large RC assortment including RC Cars and Trucks (GM), Helicopters, Airplanes, RC Electronics (HoTT 2,4GHZ), Chargers, RC Glow-Powered Motors (OS) as well as a large variety of Electric-Powered Brushless Motors. Graupner supplies around 2000 retailers throughout the world.