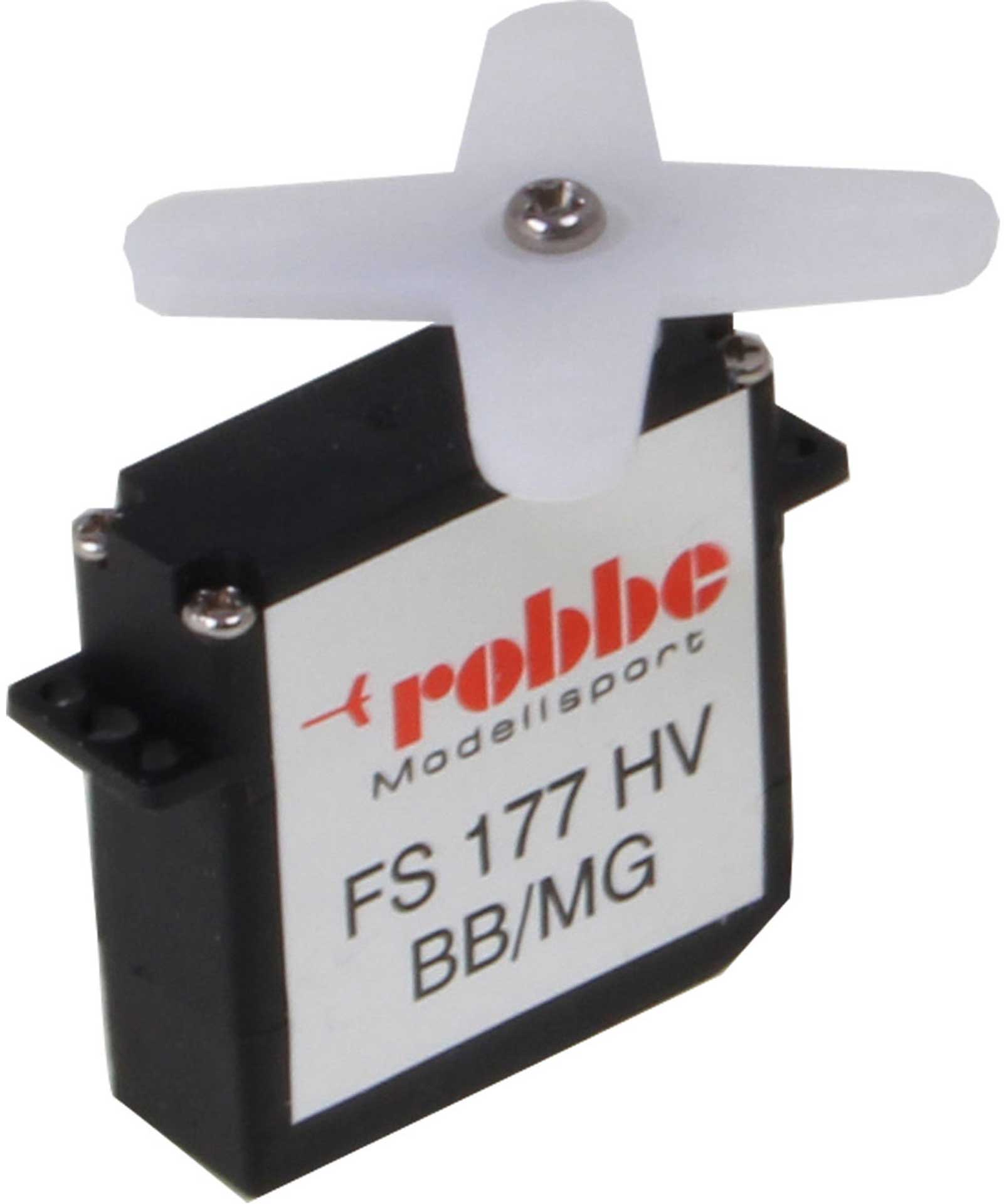 In stock. Usually ships within 1 business day.
Description "Robbe Modellsport FS 177 BB MG HV DIGITAL SERVO"
The Robbe FS 177 BB MG HV is a modern high-voltage surface-mounted servo in the 9 gram class with an 8mm slim housing. It is made of impact-resistant, tough plastic, which is extremely temperature stable. The motor and digital control electronics meet the highest quality standards.

The FS 177 BB MG HV is very well suited as a wing servo for ailerons and thanks to its robustness due to high-quality ball bearings also for flaps in thin wing profiles, e.g. on DLG (F3K), pylon models (F5D), but also in electric gliders of the class F5J.
The servo comes with extremely robust plastic servo arms.


The Robbe FS Servos are high-quality and precisely manufactured steering gears for the RC sector. Due to the high manufacturing standard and the resulting processing quality, you achieve maximum power, speed, reliability and positioning accuracy. The Robbe FS Servo series impresses with its exceptionally good price-performance ratio.


Technical data
| | |
| --- | --- |
| Bearing: | •• |
| Gearbox Type: | Metal |
| Gear tooth: | 16Z |
| Height (mm): | 24 |
| Length (mm): | 23,5 |
| Opering voltage (V): | 6,0 - 7,4 |
| Servo type: | Digital HV |
| Speed sec./60° (6V): | 0,09 |
| Speed sec./60° (7,4V): | 0,07 |
| Torque kg/cm (6V): | 2,0 |
| Torque kg/cm (7,4V): | 2,6 |
| Weight (g): | 9,4 |
| Width (mm): | 8 |