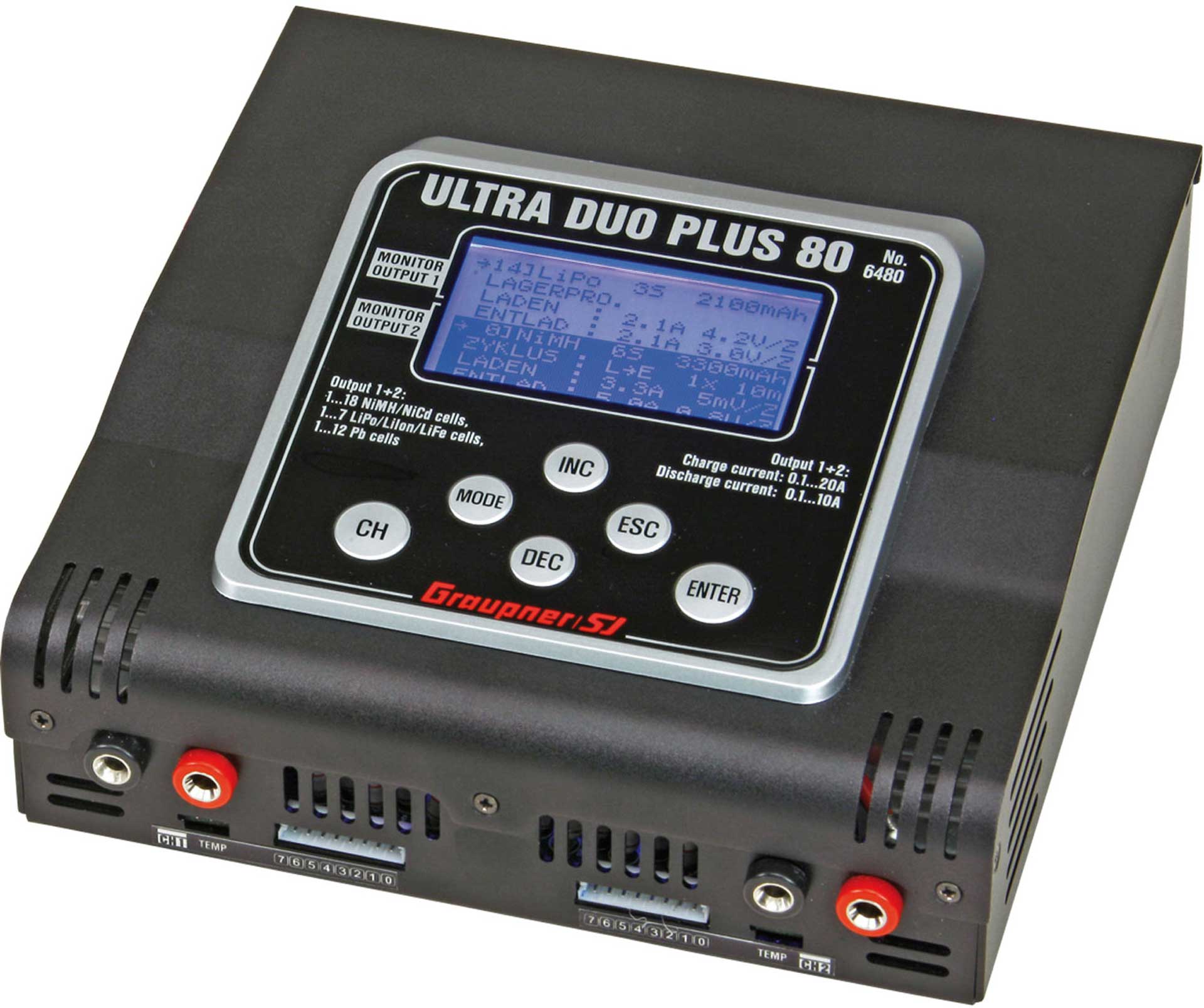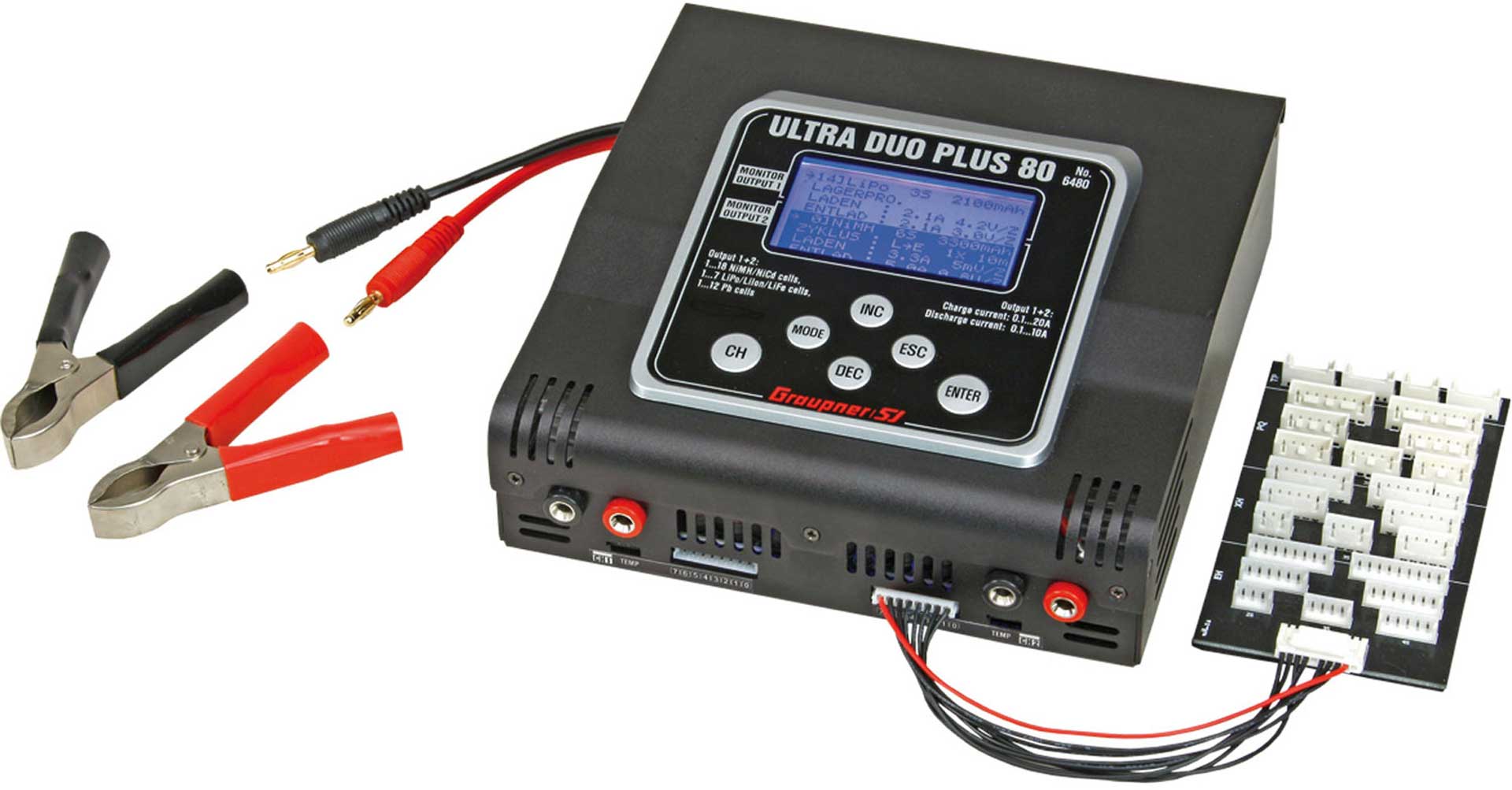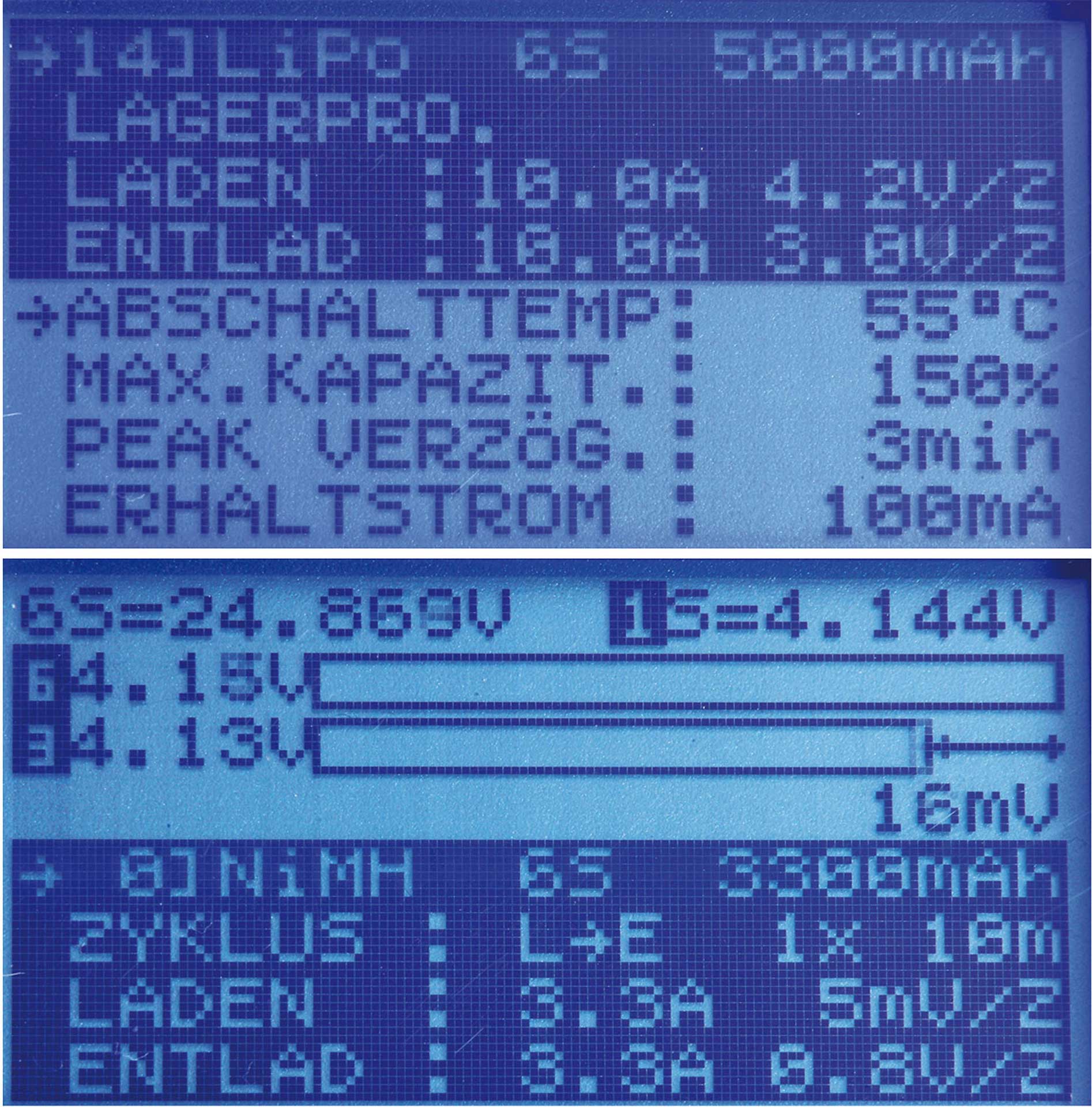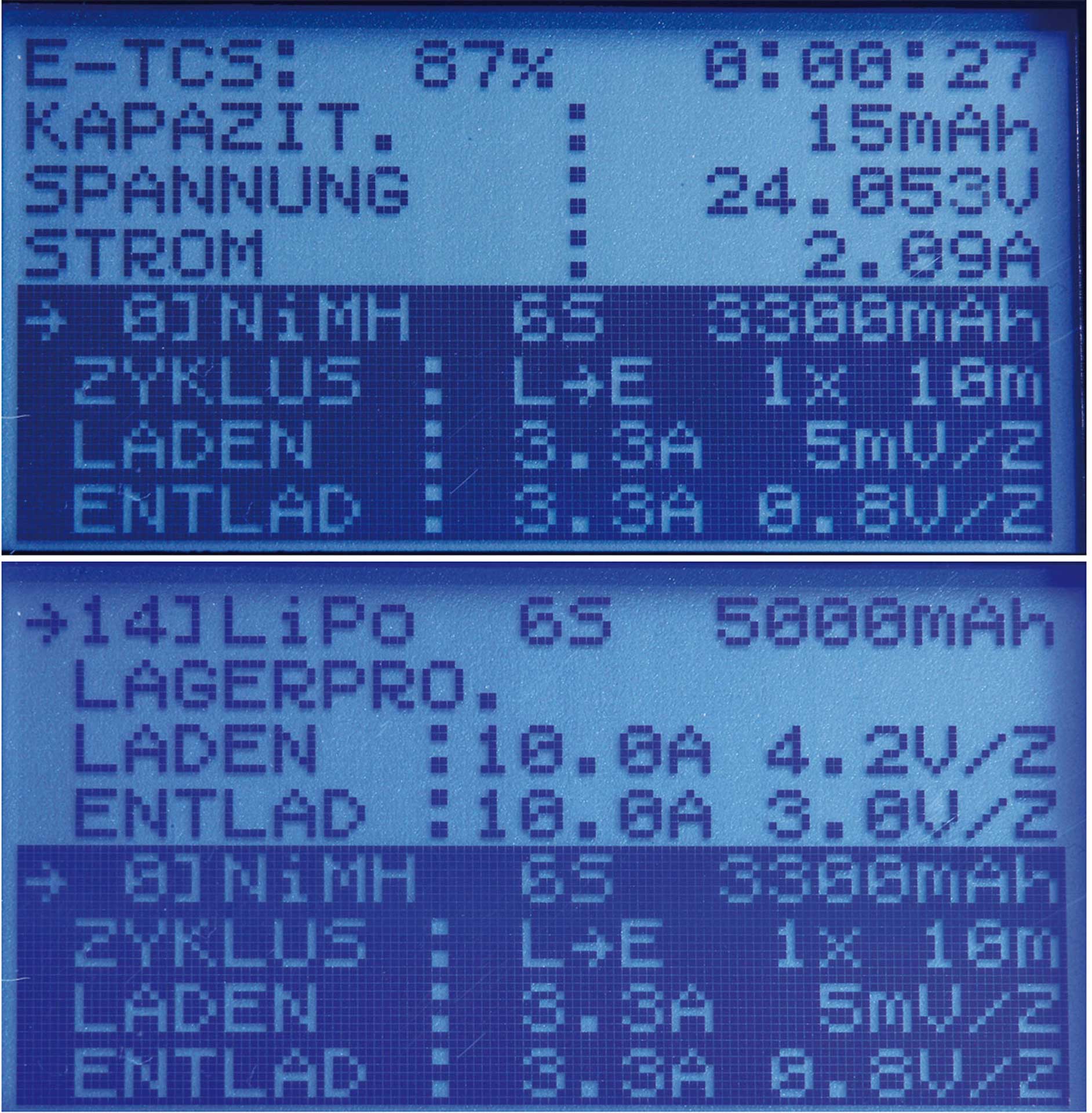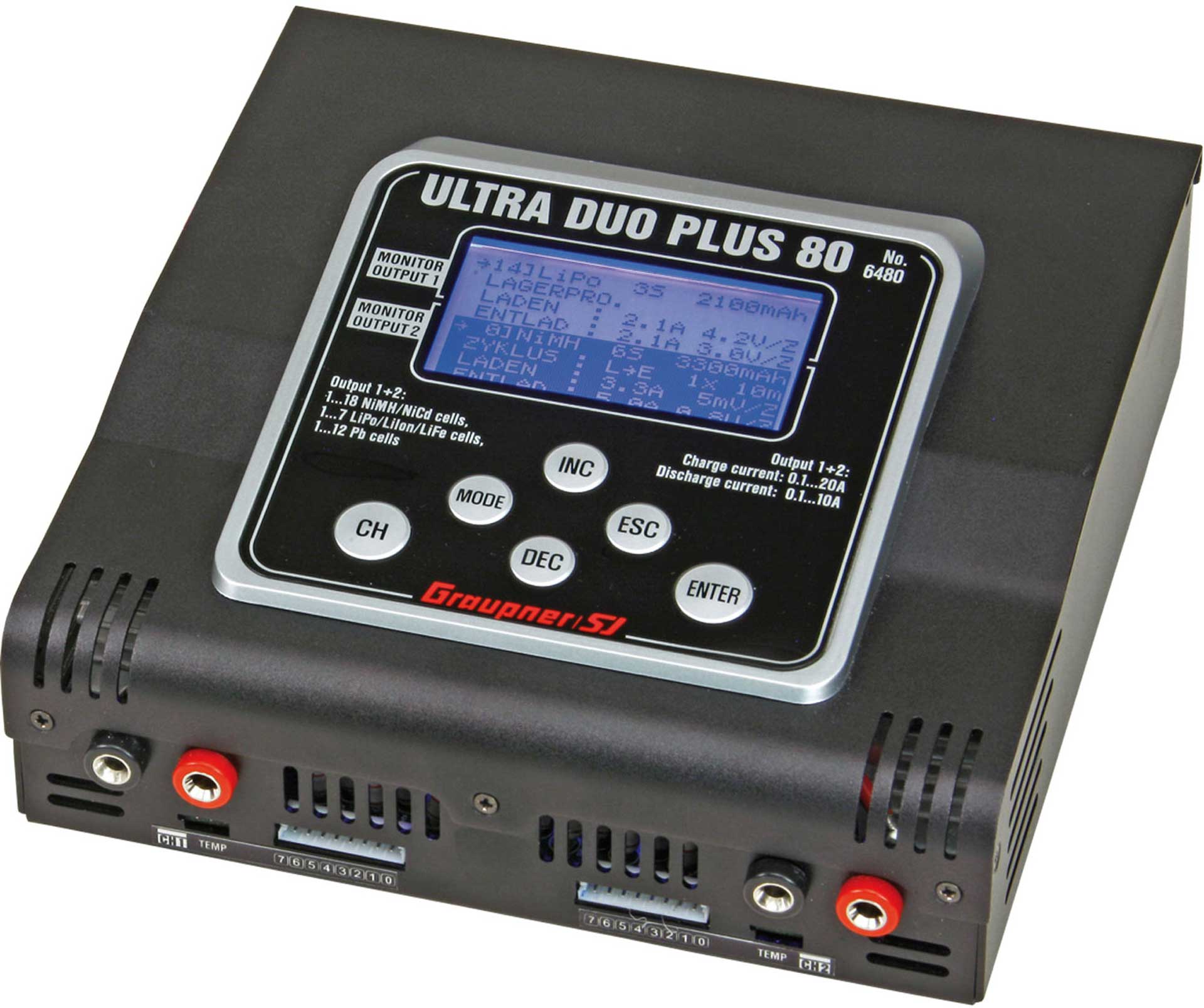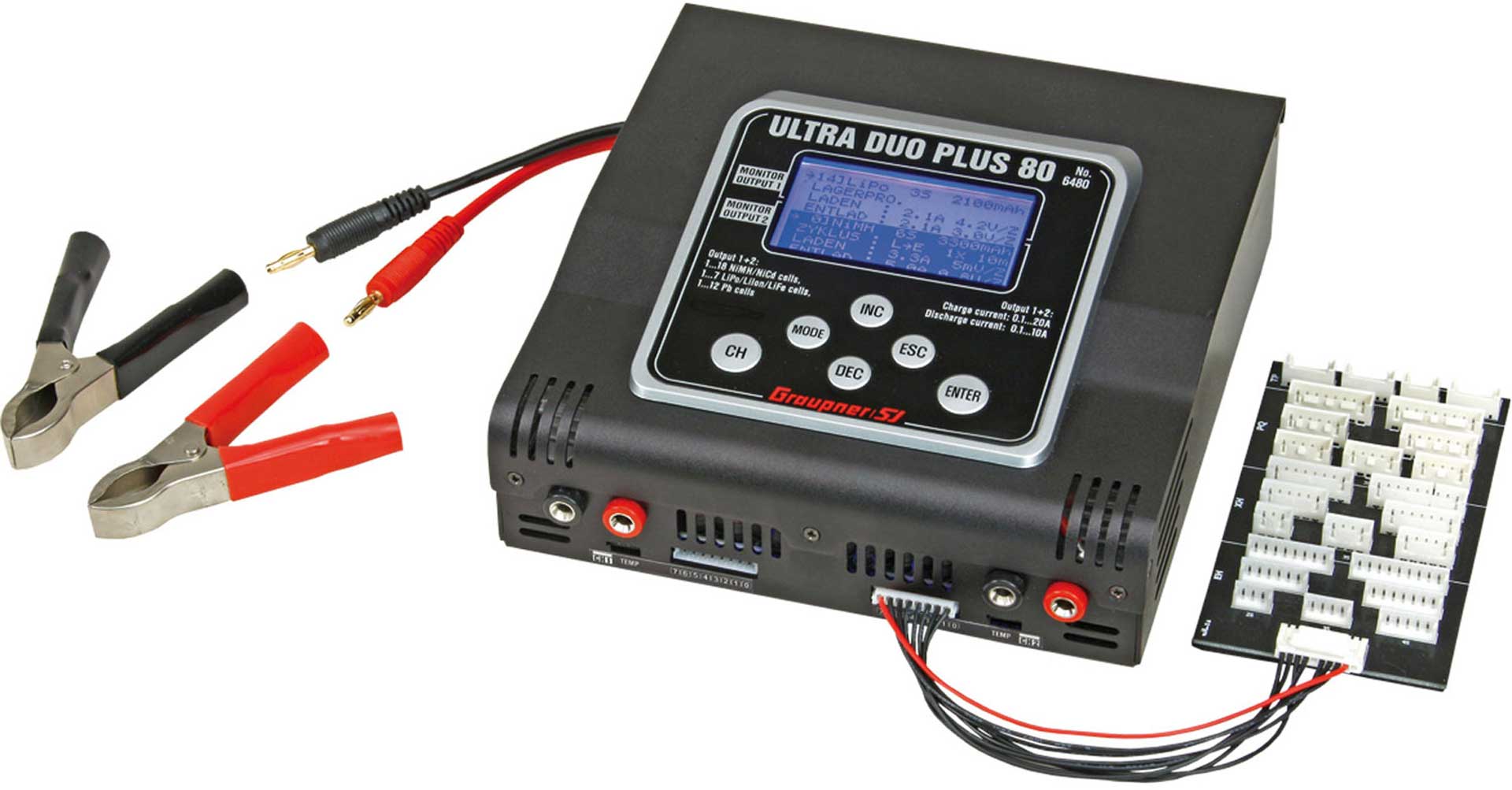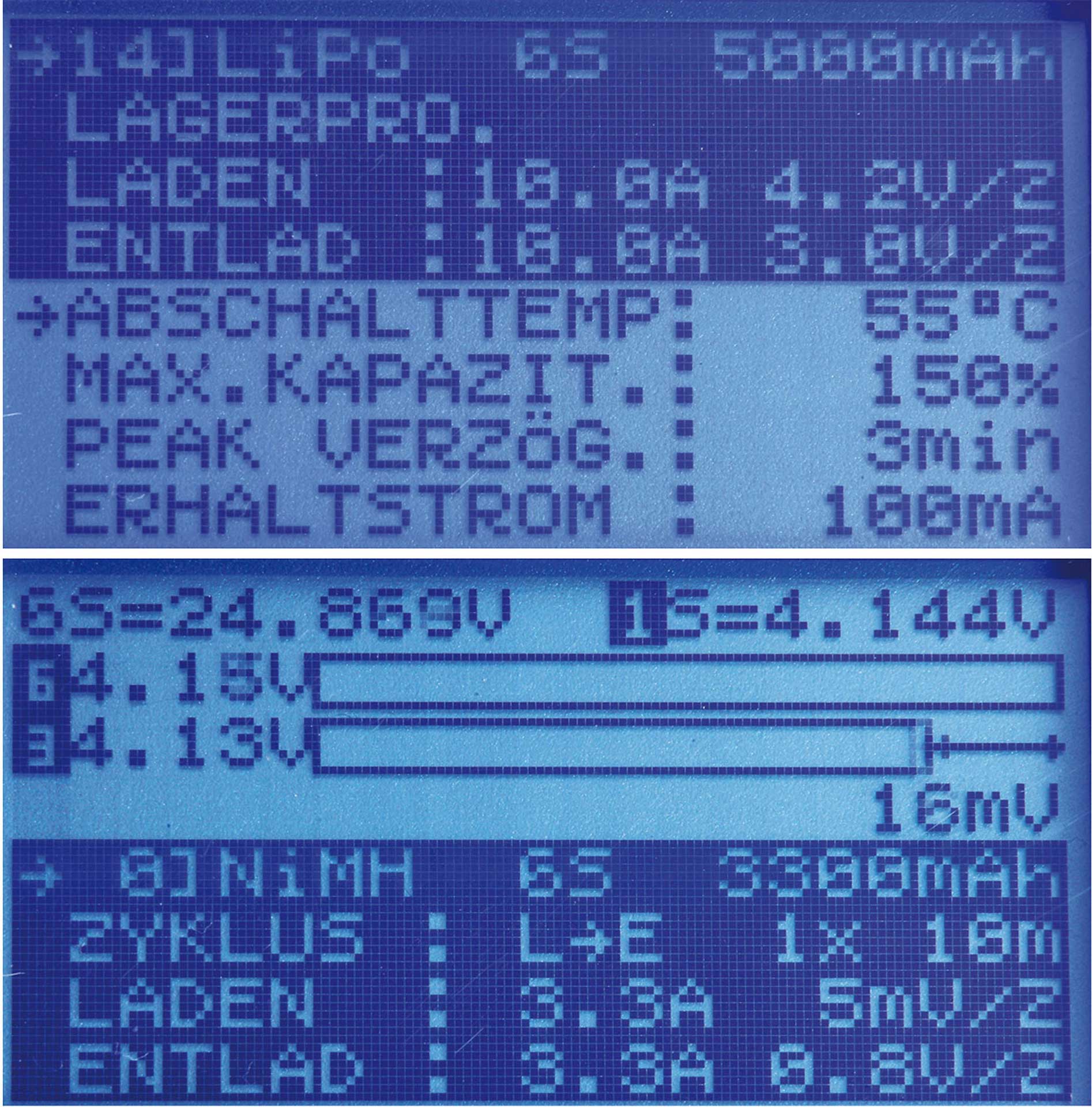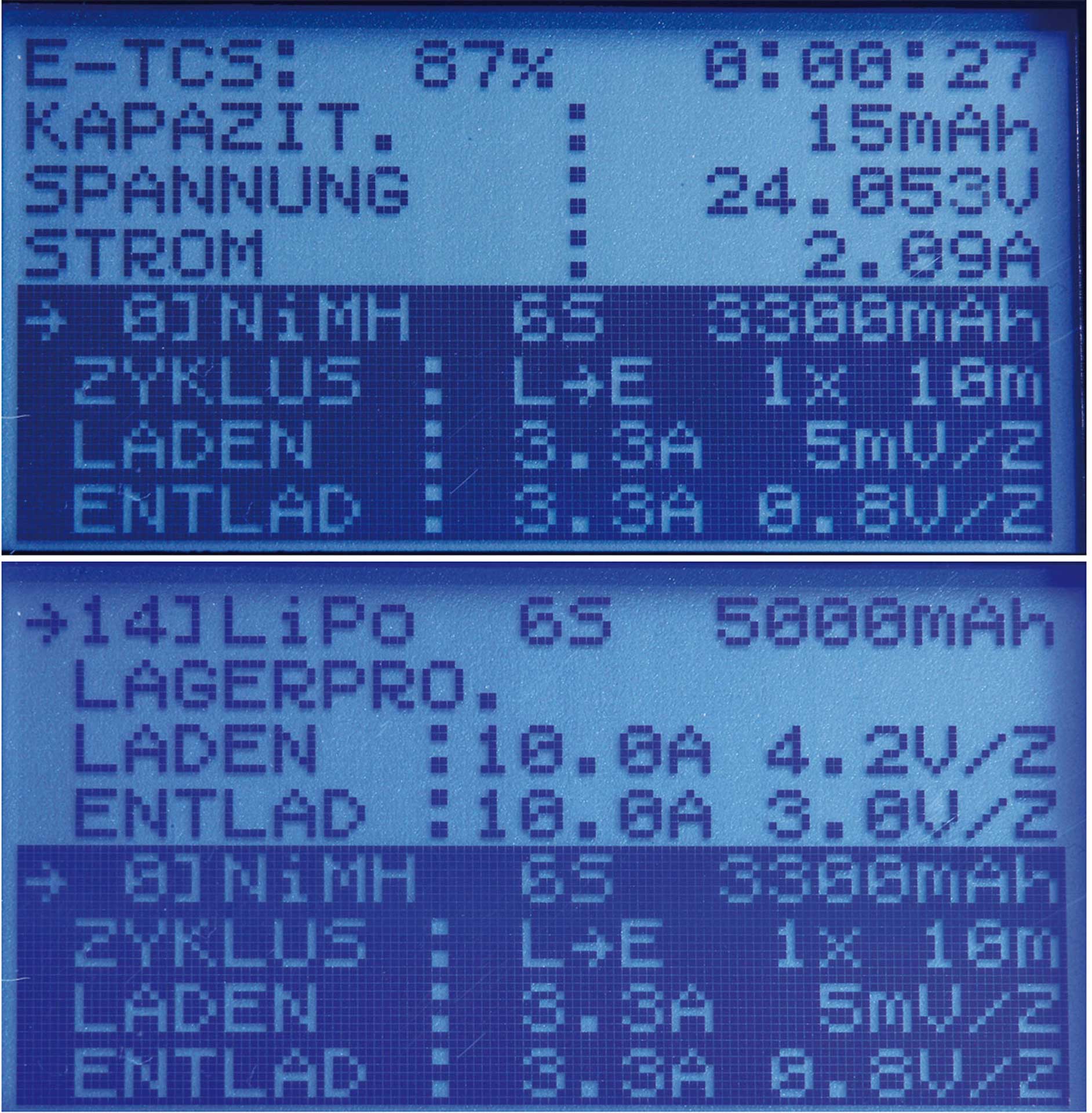 €179.90*
%
€209.99*
(14.33% saved)
In stock. Usually ships within 1 business day.
Downloads
Description "GRAUPNER ULTRA DUO PLUS 80 12V CHARGER 1000W 2X 1-7S"
Computer-controlled universal quick charger:
12 - 28 V DC input
Two equivalent independent charging outputs
Graupner balancer connection for 2 x 1...7 NiCd/NiMH/LiPo/LiIo/LiFe batteries
20 battery memories to store all important battery parameters per output
Automatic charging, discharging, capacitance measuring, battery care and formation program for NiMH, NiCd, LiPo, LiIo, LiFe batteries in model making
Simplest operation due to clear program structure via 6 keys
Blue illuminated high-contrast graphic LC display (128x64) 21 x 8 characters for displaying all relevant parameters or charge/discharge curves
Charging/discharging option for NiMH, NiCd, LiPo, LiIo, LiMn, LiFe or lead batteries
Delta peak cut-off detector for NiMH and NiCd cells with adjustable delta peak voltage, thus full charge to 100 % capacity possible
Charging from 1 cell ideal for incandescent batteries or for cell selection
Charging of LiPo, LiIo, LiFe, Pb cells with constant current/constant voltage charging. Falling current characteristic after reaching the charging end voltage with automatic charging cut-off
Loading procedure: NiCd/NiMH: Automatic, Normal, Linear, REFLEX
LiPo/LiIo/LiFe: CC/CV, stock program
Special charging/discharging facility for storing batteries
Lead-acid battery charging programs with optimized charging characteristic, discharge option, adjustable discharge current for determining battery and residual capacity
short-circuit, overload and reverse polarity protection
Buzzer can be switched off, melody selectable
Safety timer 20 ... 300 min and OFF adjustable
max. charging capacity adjustable
English/German/French. Language selectable
Display of the internal battery resistance
Display of the single cell differential voltages
PC-USB interface for displaying battery curves (per update)
Ready for connection
Technical data
| | |
| --- | --- |
| Charge current (A): | 0,1-20 |
| Chargers category: | DC 12-50V |
| Charging current category: | Up to 20A |
| Discharge current (A): | 0,1-10 |
| Discharge current category: | Up to 10A |
| Input Voltage (V): | 11-25 |
| Power (W): | 500 x2 |
| Rechargeable batterie-types: | LiPo/LiFe/Lilon/NiMH/NiCd/Pb |
| Rechargeable cell count: | 1-7 Lixx, 1-18 Nixx, 1-12 Pb |
Box contents
ULTRA DUO PLUS 80 charger
EH to XH 7S Adapter Board and Cable x 2
DC input cable
Charging Cable x 2
Temp sensor x 2
Alligator Clip x 2
Manual
Graupner, based in Kirchheim, Germany, was founded by the family Graupner and, up until March 2013, operated under the third Graupner generation from Stefan Graupner. In March 2013, the company was purchased by the manufacturer of Graupner HoTT RC Transmitter Systems. Graupner covers a large RC assortment including RC Cars and Trucks (GM), Helicopters, Airplanes, RC Electronics (HoTT 2,4GHZ), Chargers, RC Glow-Powered Motors (OS) as well as a large variety of Electric-Powered Brushless Motors. Graupner supplies around 2000 retailers throughout the world.