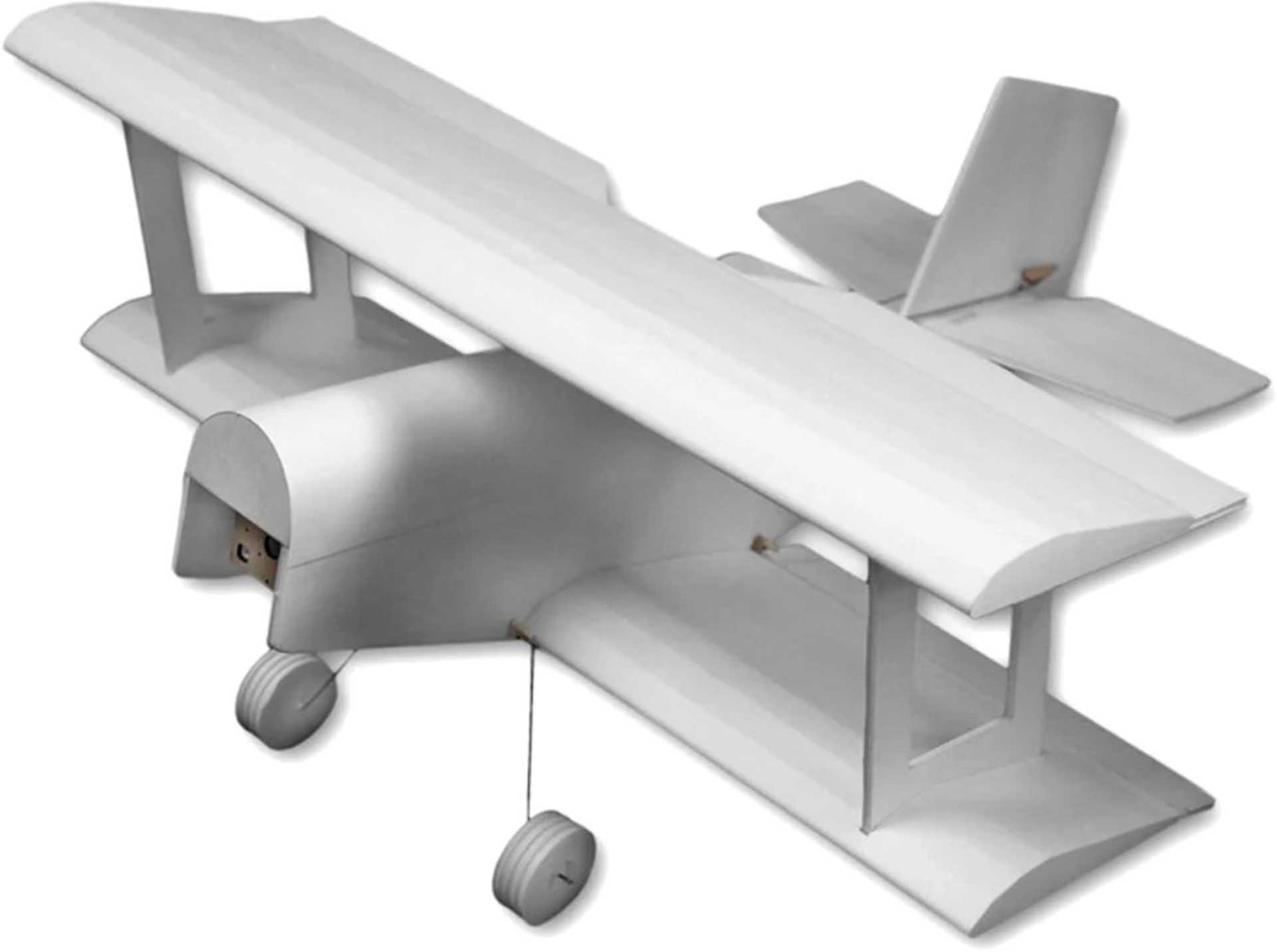 In stock. Usually ships within 1 business day.
Description
"FLITE TEST Baby Blender Speed Built Kit Maker Foam 610mm"
Now manufactured with Master Foam the
Flite Test Baby Blender Swappable
is an excellent transition into four channel flying and more advanced building techniques. With gentle stall characteristics and a wide speed envelope, the Baby Blender will enable you to experience all the benefits of four channel flight. Tight loops, rolls, hammerheads, snap rolls, inverted, and even high alpha are all possible with this design. The Baby Blender will quickly take away your intimidation of flying a four channel biplane, and take you back to your childhood when the only limitation was the lead in your pencil and the size of your paper.
Power Pack Compatibility:
Flite Test Airplanes are all designed around the use of various "Power Packs" which include an inexpensive Motor, ESC, Servo, & accessory package to complete each.
Maker Foam Features:
White color is much easier to add a simple trim scheme using stickers or pinstripes
Translucent allowing models to be creatively lit from within
Takes paint or decals extremely well
More durable than previous Flite Test foam products
Specifications:
Weight: 14 Oz (Fully assembled; without battery)
Wingspan: 24 Inches (610mm)
Now newly made from "Maker Foam"!
Perfected foam for even more flying fun
New white material for more creativity and individuality
Technical data
| | |
| --- | --- |
| Wing-span (mm): | 610 |
| Flight weight approx. (g): | 397 |
| Empty weight approx. (g): | - |
| Control: | H,S,Q,M |
| Manufacturer: | Flite Test |
| Fuselage: | FT WR Foam Board |
| Wings: | FT WR Foam Board |
| Version: | KIT - BAUSATZ |
| Rec. Battery: | - |
| Length (mm): | - |
| recommend Motor: | BL Outrunner |
| Airfoil: | - |
| Flight Skill: | Advanced |
| Building Skill: | Advanced |
| Drive Type: | Electro |
Box contents
Laser-cut Foam
Posterboard Turtle Deck & Wing Tip Covers
Power Pod
Firewall
Das Produkt Baby Blender Speed Build Kit Maker Foam von FLITE TEST in der Kategorie Sport & Scale Airplanes hat eine Spannweite von 610 sowie ein Gewicht von 397. Die Steuerung des Modells erfolgt über die Funktionen H,S,Q,M. Das Modell ist als KIT ausgeführt . Wir empfehlen einen Akku für dieses Elektroflugmodell.
* Erklärung Steuerfunktionen:
H ... Höhenruder
S ... Seitenruder
Q ... Querruder
M ... Motorsteuerung
V ... Vektorsteuerung
SK ... Störklappen
LK ... Landeklappen
WK ... Wölbklappen
EZFW ... Einziehfahrwerk
SKU ... Schleppkupplung
( ) ... optional - in Klammer geschriebene Steuerfunktionen sind bei dem beschriebenen Modell optional verfügbar
Who doesn't know them? The crazy boys from Ohio were able to establish a fan community of people from all over the world in a very short time and they enjoy great popularity with all age groups. As of now you can find a large choice of Flite Test assemblies and accessoires with Modellbau Lindinger. You describe the models with the original wording best: »This stuff is AWESOME!«