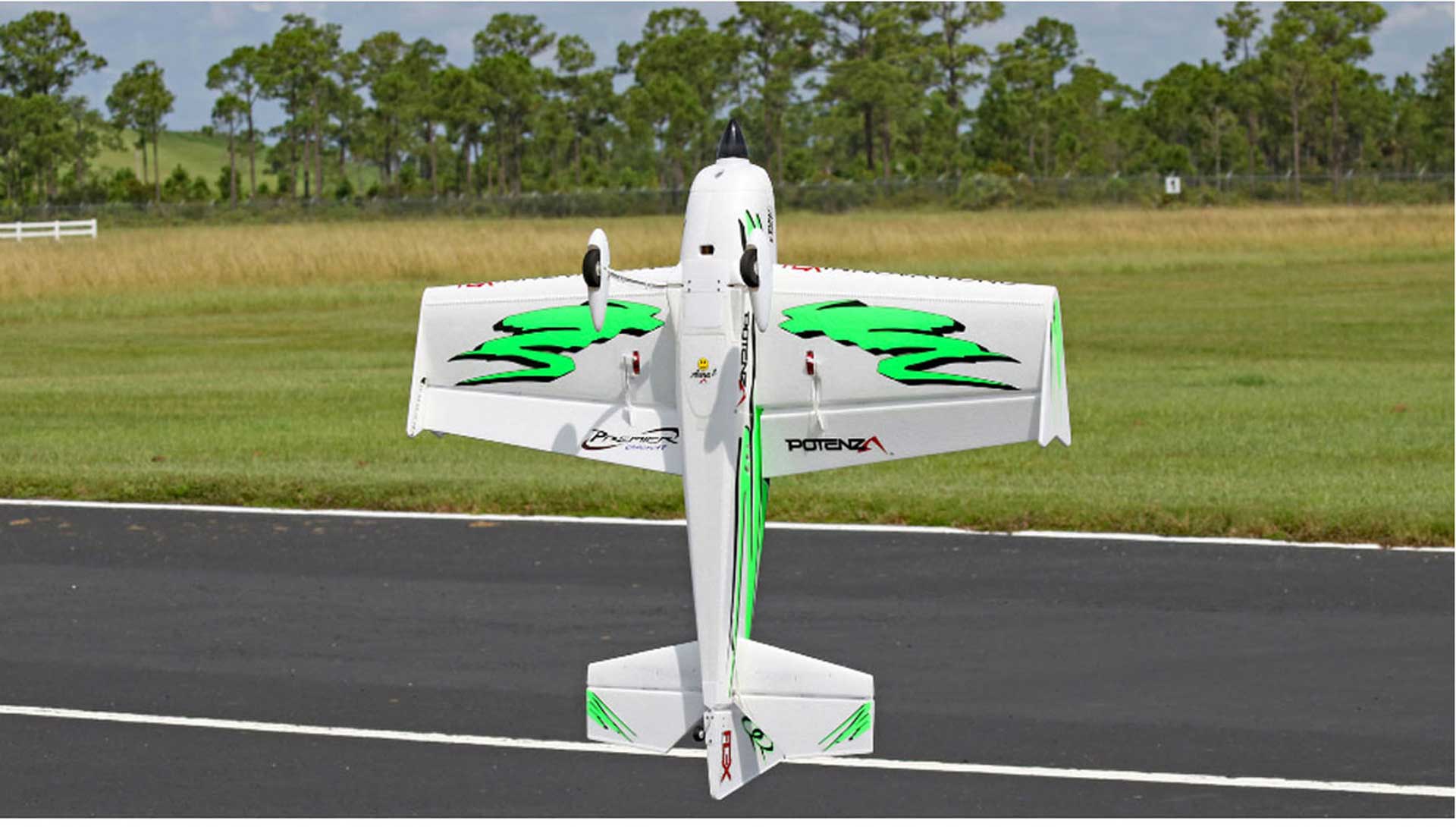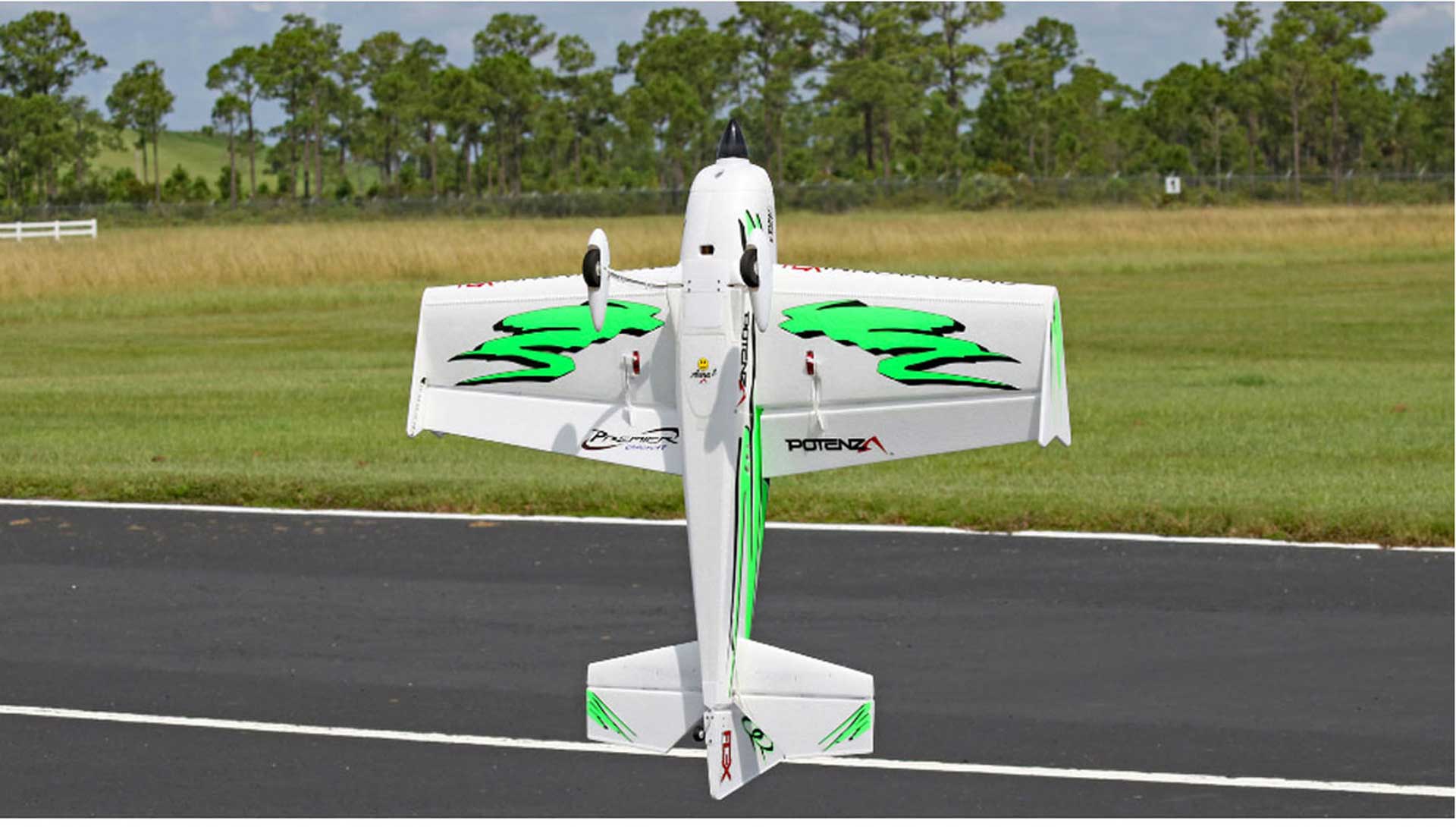 In stock. Usually ships within 1 business day.
Downloads
Description "PREMIER AIRCRAFT QQ EXTRA 300 V2 GREEN/BLACK SUPER PNP WITH AURA 8"
Famous and Revitalized!
The QQ Extra 300G2 is the second generation of the very popular and successful QQ Extra 300. Improvements from the Flex Innovations' Design Team and valuable feedback from our customers around the world have been incorporated to evolve the QQ Extra 300G2 to the next level!
Our newest Potenza 10 BL motor (1400kv) with larger 50A ESC delivers more power that translates into more punch out from a hover and greater top speed. The new Potenza DS15 digital servos offer better precision and better reliability. Vibrant new color schemes bring outstanding visibility and modern flavor.
A perfectly balanced airframe and super light design have been combined with today's most Advanced Flight Control System...the Aura 8. Using the latest Aura 8 firmware, the QQ Extra 300G2 gives an unmatched flying experience. Pilots will feel smooth, predictable and precise aircraft control without any bounce back or interference to pilot inputs. The aircraft will fly as if it were much larger with turbulent air being less noticeable, rotations stopping more precisely, and smoother landings!
The meticulous Quique Somenzini design and manufacturing of the QQ Extra 300G2 gives you light and stiff at the same time due to the hollow interior design with strength from carbon fiber in key locations. Because it is EPO, it remains tough and repairable.
The Night version now incorporates LEDs INSIDE the fuselage to increase visibility at darkness. A new LED controller that allow the pilot to turn the LED lights on/off in flight.
The QQ Extra 300G2 is all around the perfect airplane for those wanting to do sport flying or 3D aerobatics with maximum fun and minimal hassle! It's the Go-To airplane!
Great features included:
New Potenza 10 1400Kv BL motor for 3s operation
New ZTW 50A ESC with 8A internal BEC
(4) Potenza DS15 digital servos
Innovative and redesigned plywood sub-frame connects the firewall to the wing spar while providing superior battery mounting and cooling
Advanced AURA 8 Control system with new Firmware (no bounce back)
Extreme 3D Performance
Precise Aerobatics with nearly zero control coupling
Super-light Rigid Airframe
Hollow wing with internal wood and carbon structure
11.5 x 4.5" Custom Tooled Somenzini-Ribbe (SR) Prop for awesome grip at all speeds
Wheel Pants to enhance scale appearance (removable)
Vortex Generators for low speed control
Custom Control Horns for Optimized Throw and Precision
Highly visible and modern factory applied trim scheme
Technical data
| | |
| --- | --- |
| Airfoil: | - |
| Building Skill: | Beginners |
| Control: | H,S,Q,M |
| Drive Type: | Electro |
| Empty weight approx. (g): | - |
| Flight Skill: | Advanced |
| Flight weight approx. (g): | 1360 |
| Fuselage: | EPO |
| Manufacturer: | Premier Aircraft |
| Rec. Battery: | 3S/1800-3300mAh LiXX |
| Rot: | 9759918 |
| Type: | 1215 |
| Version: | PNP- PLUG N PLAY |
| Wing-span (mm): | 1215 |
| Wings: | EPO |
| grün: | 9759919 |
| recommend Motor: | BL10er 1400Kv |
Box contents
- Almost finished model QQ Extra 300 from EPO
- AURA 8 Control system 3-axis Gyro
-19g Full Metal Gear Digital Servos Durable, Powerful, Precise
- Powerful 10 Series Metal Motor
- 40A HobbyWing controller with 3A SBEC
- 11.5 x 4.5 "special Somenzini Ribbe (SR) propeller for extra grip at all speeds



Das Produkt QQ EXTRA 300 V2 GRÜN/SCHWARZ SUPER PNP von PREMIER AIRCRAFT in der Kategorie 3D & Aerobatic Airplanes hat eine Spannweite von 1215 sowie ein Gewicht von 1360. Die Steuerung des Modells erfolgt über die Funktionen H,S,Q,M*. Das Modell ist als PNP- PLUG N PLAY ausgeführt . Wir empfehlen einen 3S/1800-3300mAh LiXX Akku für dieses Elektroflugmodell.
* Erklärung Steuerfunktionen:
H ... Höhenruder
S ... Seitenruder
Q ... Querruder
M ... Motorsteuerung
V ... Vektorsteuerung
LK ... Landeklappen
SK ... Störklappen
WK ... Wölbklappen
EZFW ... Einziehfahrwerk
SKU ... Schleppkupplung
( ) ... optional - in Klammer geschriebene Steuerfunktionen sind bei dem beschriebenen Modell optional verfügbar