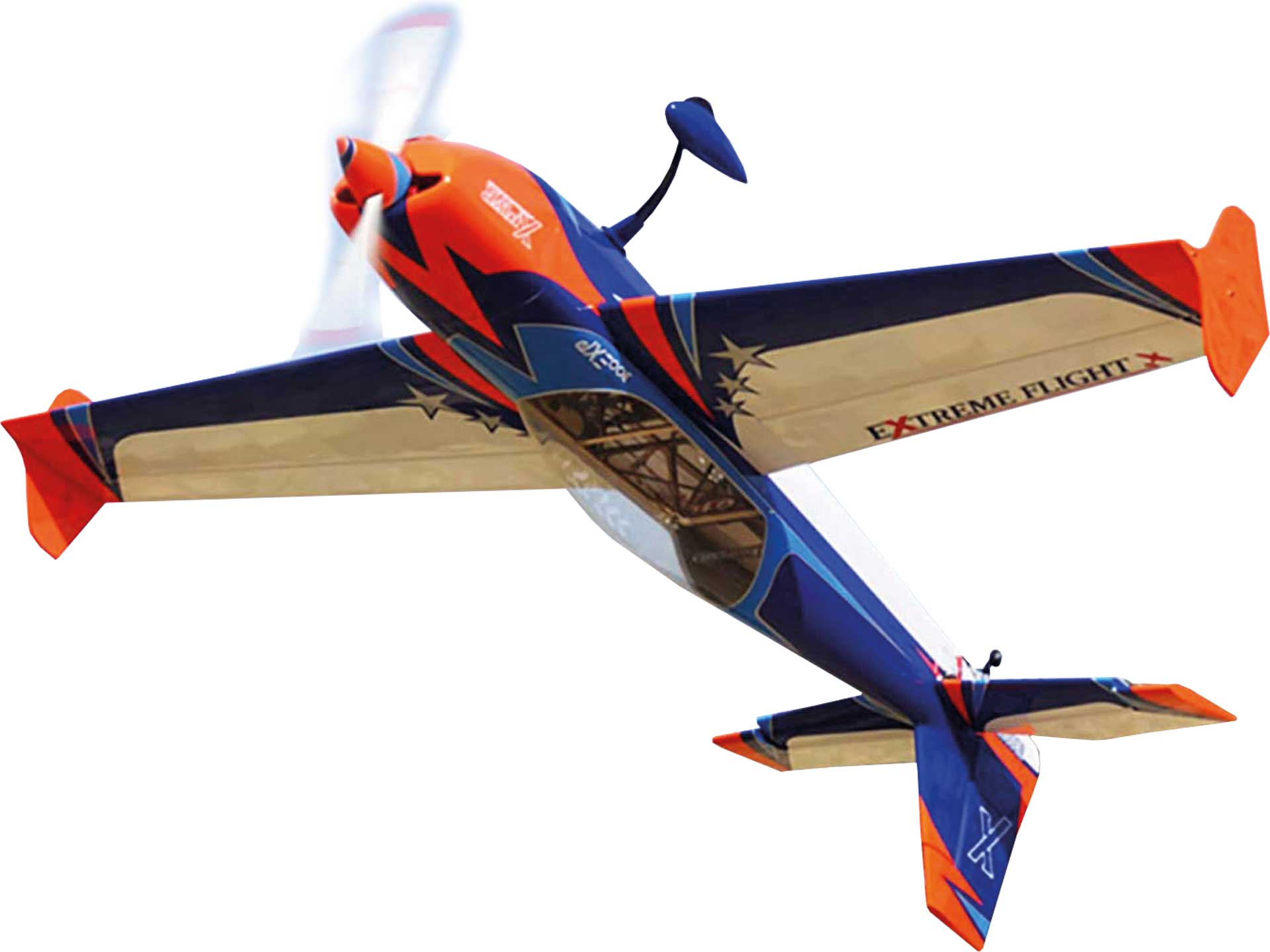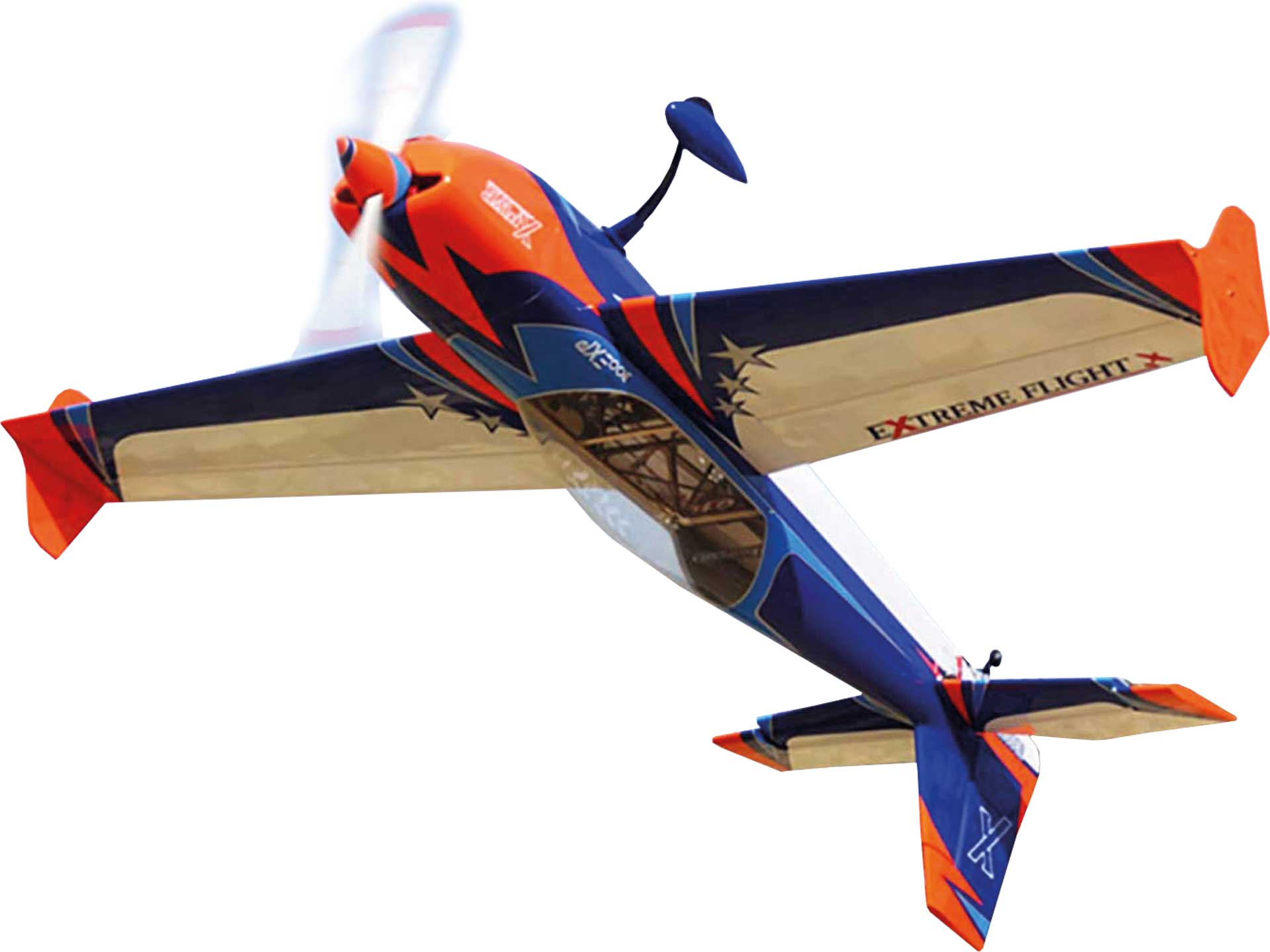 Only a few left in stock, ready for shipment within 1 working day. Delivery time 1-3 working days.
Product number:
A119V3-O/W
Downloads
Description "EXTREMEFLIGHT-RC EXTRA 300 78" V3 ORANGE / BLAU ARF"
From the initial release of the 78 inch Extra 300 in 2009 when our team pilot and good friend Donatas Pauzuolis from Lithuania won the FAI World Airgames Artistic Aerobatic competition with a prototype of the 78" Extra, it immediately found favor within the RC aerobatic community and has remained one of our best selling aircraft. We decided that this iconic airframe deserved an update to bring it up to spec with our other current airframes. Just like our other recent releases there has been some serious weight reduction involving extensive use of composites. The model that we have been flying during testing is a full pound lighter than the previous V2 version that we built and flew extensively during the preliminary testing of the Xpwr motors! What this has allowed is for us to use the Xpwr 35, which allows us to use smaller batteries, contributing to the lower weight. The 21x10 that we use on the Xpwr 35 is still a huge disc on this size model and power is nothing short of ballistic. It is for this reason that we now feel the 78" Extra is THE current sweet spot for super floaty yet aggressive electric 3D flying: Using 2 of the batteries that we all use in our 60" models (6S 3300-4000 mah) we can now experience 5-6 minutes of some of the best aerobatic performance currently available in a gorgeous state of the art 2 meter airframe. Of course the Xpwr 40 is still an excellent choice for this model and we have zero reservations recommending this motor.


Technical data
| | |
| --- | --- |
| Airfoil: | - |
| Ausführung: | ARF - ALMOST READY TO FLY |
| Bauerfahrung: | Advanced |
| Control: | H,S,Q,M |
| Drive Type: | Electro |
| Empty weight approx. (g): | - |
| Flight weight approx. (g): | 5200-5900 |
| Flugerfahrung: | Fortgeschritten |
| Fuselage: | Wood |
| Length (mm): | - |
| Manufacturer: | Extreme Flight RC |
| Wing-span (mm): | 1981 |
| Wings: | Wood/ribbed construction |
| empf.Akku: | 10S/3300-4000mAh LiXX |
| empf.Motor: | ROBBE Ro-Power Torque 6369 |
Box contents
- finished model
- Small parts, articulations with ball heads
- carbon fiber chassis
- CFK surface mounting
- Carbon fibre reinforced fuselage
- GFK Rudder horns
- Protective bags for surfaces
- Instructions in English language


Das Produkt EXTRA 300 78" V3 ORANGE / BLAU ARF von EXTREMEFLIGHT-RC in der Kategorie 3D & Aerobatic Airplanes hat eine Spannweite von 1981 sowie ein Gewicht von 5200-5900. Die Steuerung des Modells erfolgt über die Funktionen H,S,Q,M*. Das Modell ist als ARF - ALMOST READY TO FLY ausgeführt . Wir empfehlen einen 10S/3300-4000mAh LiXX Akku für dieses Elektroflugmodell.
* Erklärung Steuerfunktionen:
H ... Höhenruder
S ... Seitenruder
Q ... Querruder
M ... Motorsteuerung
V ... Vektorsteuerung
LK ... Landeklappen
SK ... Störklappen
WK ... Wölbklappen
EZFW ... Einziehfahrwerk
SKU ... Schleppkupplung
( ) ... optional - in Klammer geschriebene Steuerfunktionen sind bei dem beschriebenen Modell optional verfügbar
Models of Extremeflight-RC are known for excellent quality and performance. Most models are made out of wood and are shipped with the most important and very valuable accessoires (many models without decal set). Numerous pilots all over the world trust in Extremeflight models. An extensive and illustrated construction manual in english helps the final assembly.