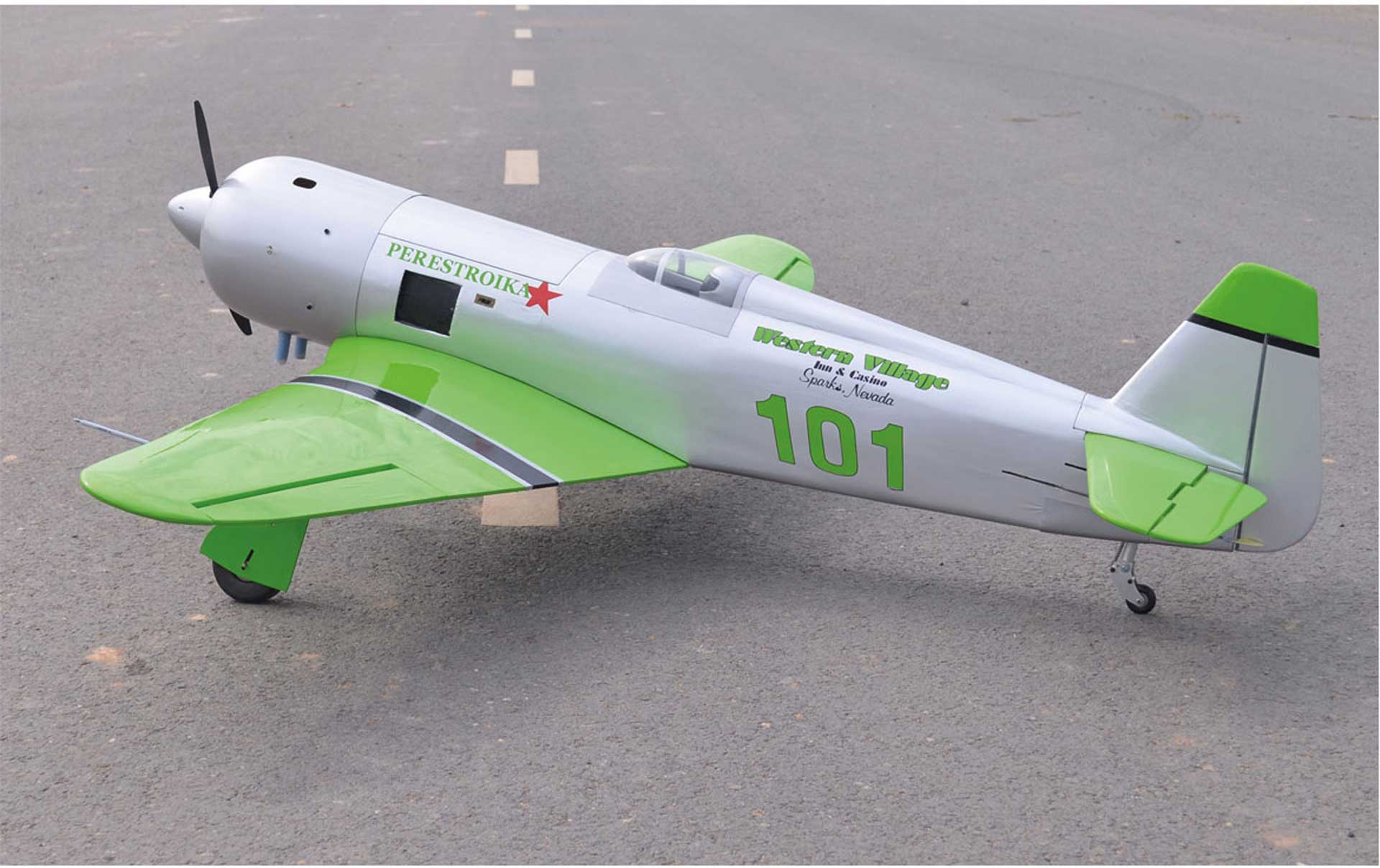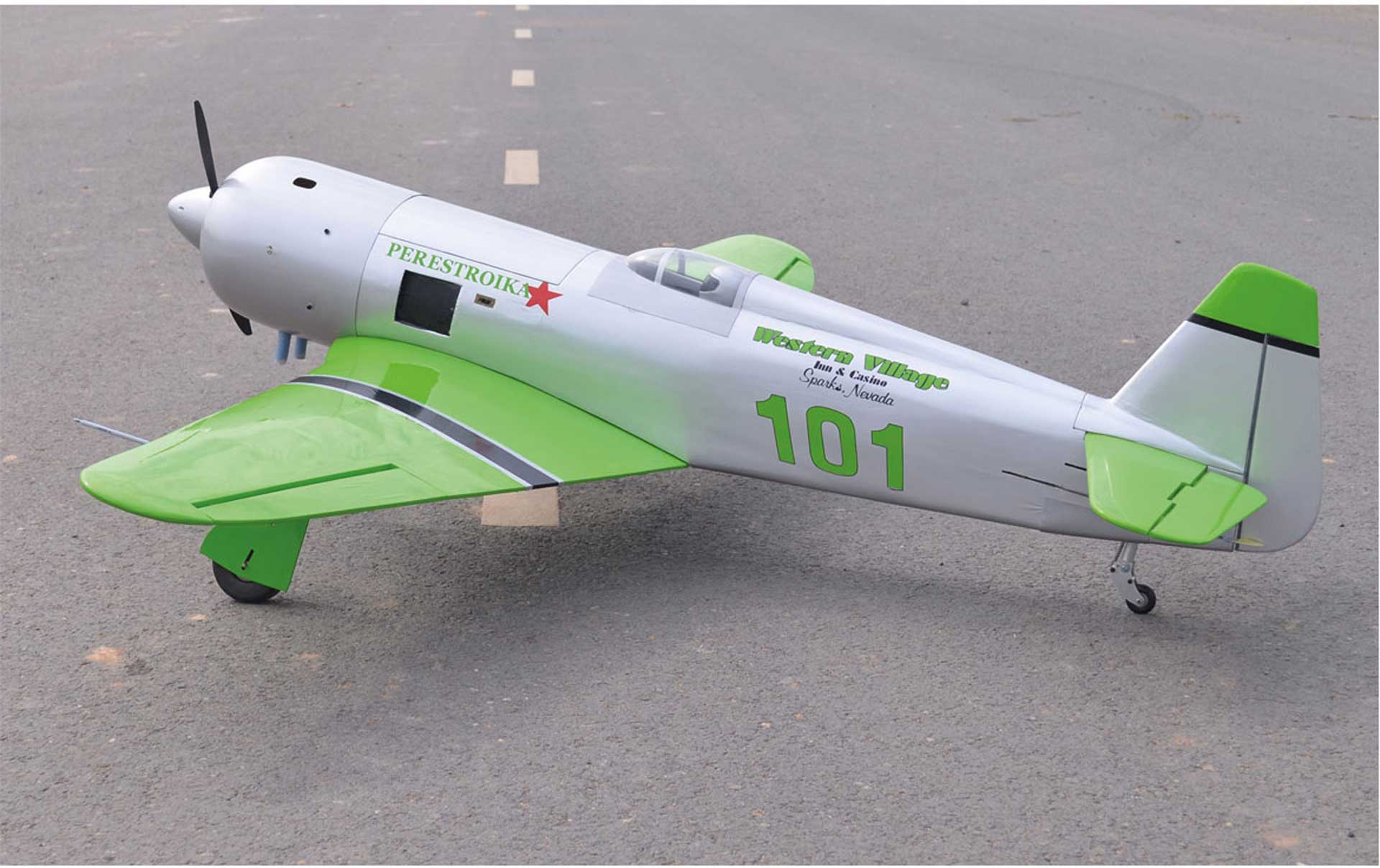 Not in stock. Available on approx. 05/10/2021.
Downloads
Description "SG-MODELS YAK 11 71" 1,8M ARF WARBIRD "AIRRACE" "CZECHMATE""
Realistic replica of the legendary Rene Airrace classic "CZECHMATE". This YAk-11 is originally a highly modified race version to achieve maximum speed in the circuit. The model is delivered with a mechanical retractable undercarriage and can be operated either with an internal combustion engine in the class approx. 20ccm or an electric motor approx. 1100-2000W (8-10S).

Features:
- agile, aerobatic model
- high-quality, light balsa/plywood construction
- demountable wings
- detailed cockpit
- GRP bonnet
- extensive accessories




"SG-Models" are inexpensive models mainly built of wood with an excellent price/performance ratio!

The product line includes many beautiful and unusual aircraft types which brings variety to every airfield.

Almost all models can be used with both combustion and electric engines. The necessary accessories are included with these models in the scope of supply. All models are delivered with an extensive, illustrated and easily understandable English assembly manual. The high degree of prefabrication enables a short remaining assembly time. All models are subjected to extensive flight tests before series production and therefore show very good flight performance. Spare part compatible to " SEAGULL " models.





Technical data
| | |
| --- | --- |
| Airfoil: | - |
| Ausführung: | ARF - ALMOST READY TO FLY |
| Bauerfahrung: | Advanced |
| Control: | H,S,Q,M,LK,EZFW |
| Drive Type: | Electro & Glow |
| Empty weight approx. (g): | - |
| Flight Skill: | Advanced |
| Flight weight approx. (g): | 5400 |
| Fuselage: | Wood |
| Länge (mm): | 1388 |
| Manufacturer: | SG-Model |
| Rec. Battery: | 8-10S LiXX |
| Wing-span (mm): | 1800 |
| Wings: | Wood/ribbed construction |
| empf.Motor: | BL 1100-2000W / GP 20-26 ccm |
Box contents
- Model YAK-11 "CZECHMATE" ARF in wood construction
- mechanical retractable gear
- Conversion kit for electric version
- illustrated assembly instructions in English language



Das Produkt YAK 11 71" 1,8M ARF WARBIRD "AIRRACE" von SG-MODELS in der Kategorie Warbirds hat eine Spannweite von 1800 sowie ein Gewicht von 5400. Die Steuerung des Modells erfolgt über die Funktionen H,S,Q,M,LK,EZFW. Das Modell ist als ARF - ALMOST READY TO FLY ausgeführt . Wir empfehlen einen 8-10S LiXX Akku für dieses Elektroflugmodell.
* Erklärung Steuerfunktionen:
H ... Höhenruder
S ... Seitenruder
Q ... Querruder
M ... Motorsteuerung
V ... Vektorsteuerung
SK ... Störklappen
LK ... Landeklappen
WK ... Wölbklappen
EZFW ... Einziehfahrwerk
SKU ... Schleppkupplung
( ) ... optional - in Klammer geschriebene Steuerfunktionen sind bei dem beschriebenen Modell optional verfügbar
"SG-Models" are good valued products out of wood. The product line contains a lot of beautyful and special aircraft types which diversify. Nearly all models are usable with combustion and electric engines. The supply contains the necessary accessoires and the contruction instruction is illustrated and in english. Because of the good fabrication, the assembly doesn't need a lot of time. All models are testet before they are produced in serie. The replacements are compatible with SEAGULL models.