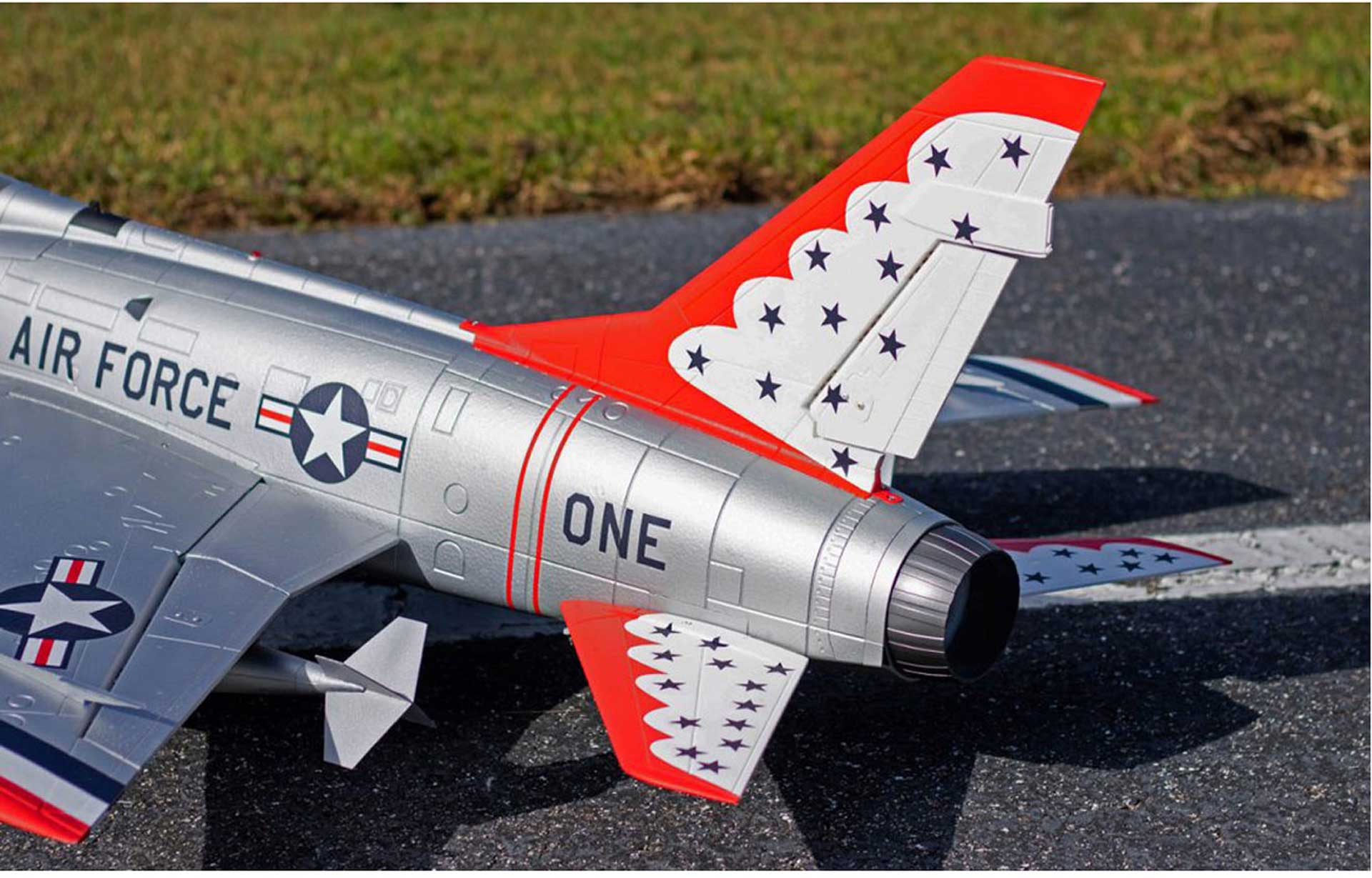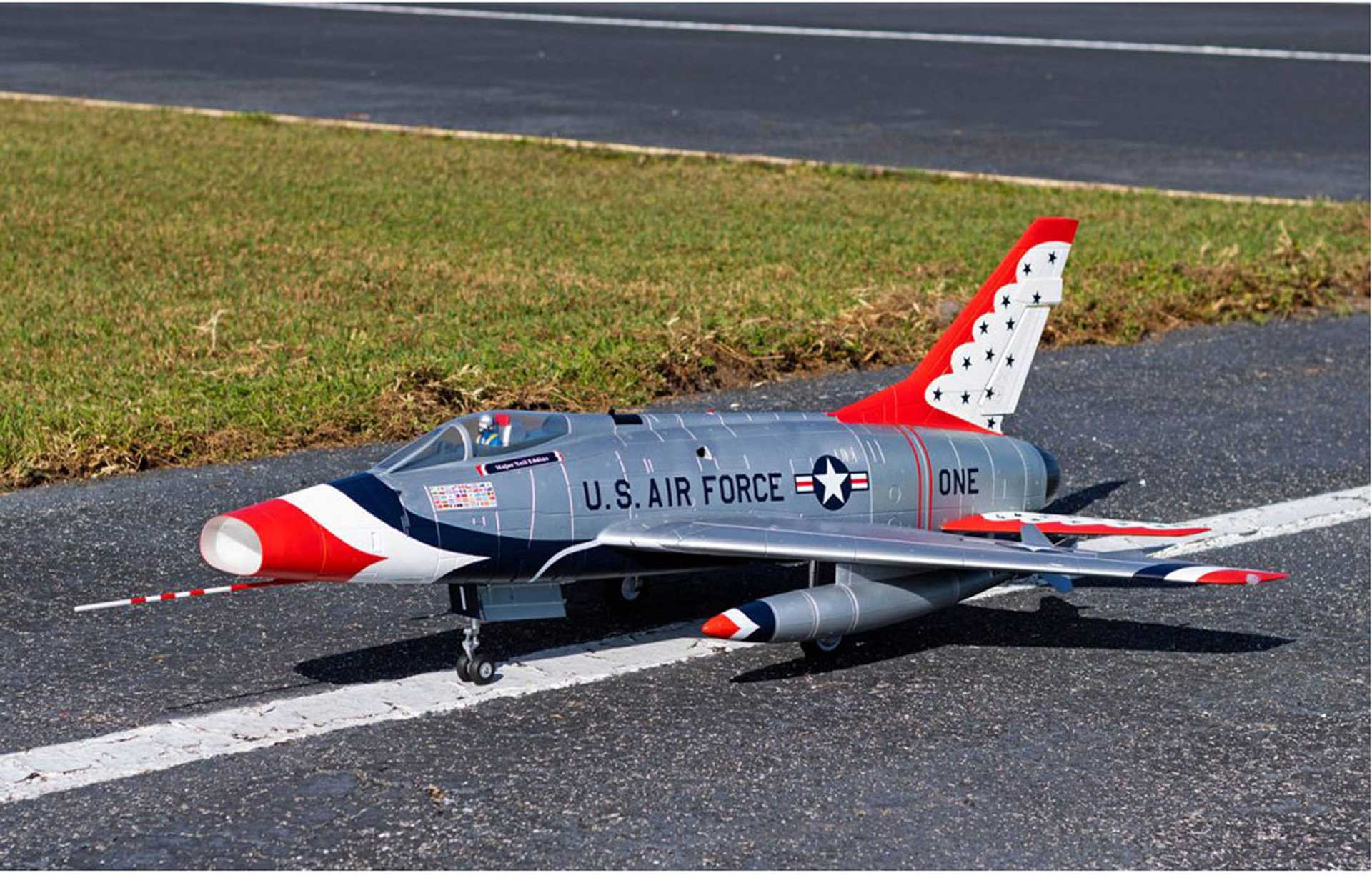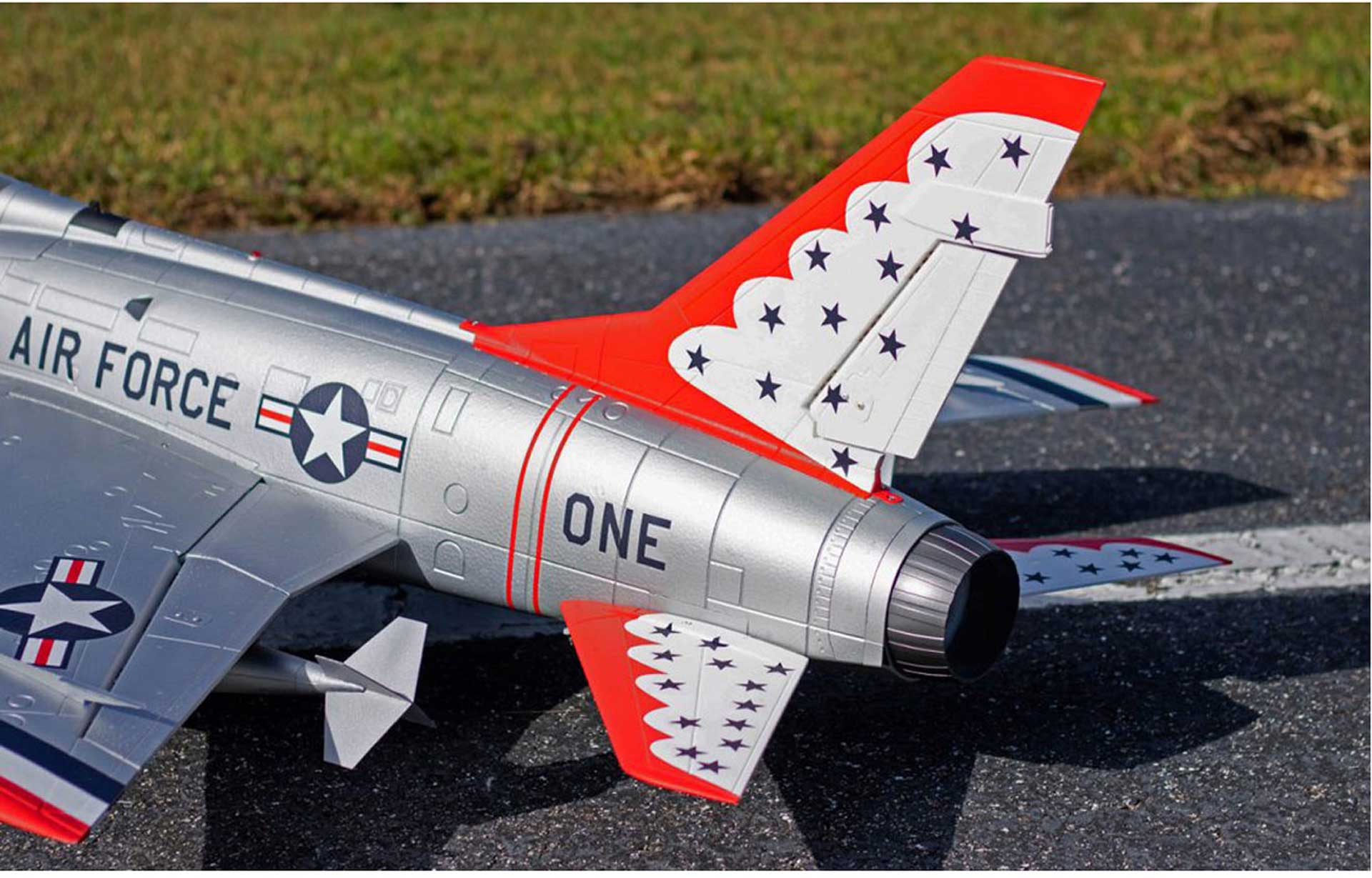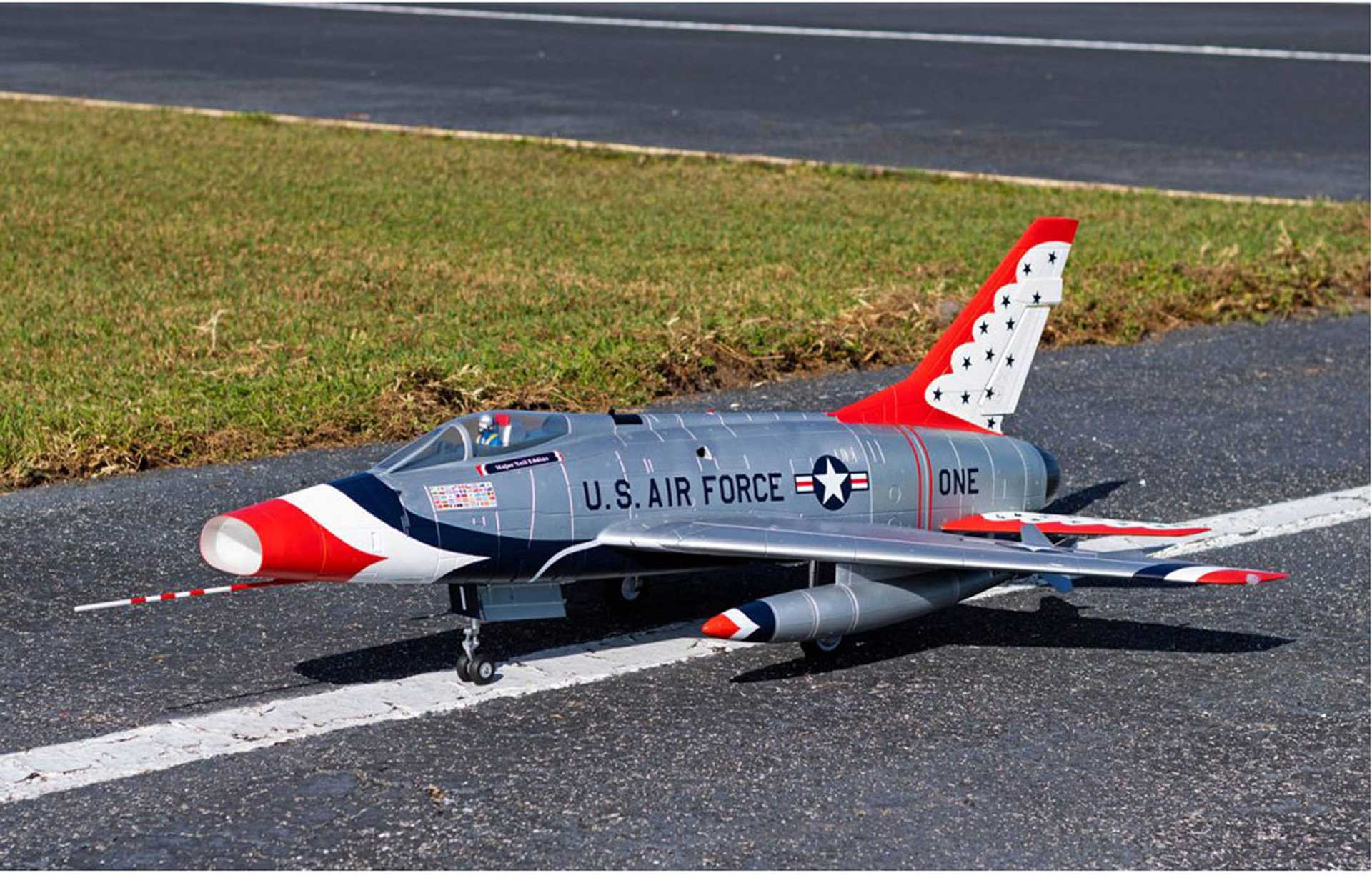 Only a few left in stock, ready for shipment within 1 working day. Delivery time 1-3 working days.
Downloads
Description "PREMIER AIRCRAFT F-100D SILVER E-IMPELLER JET"
The iconic F-100D is the first of the USAF's legendary "Century Series" fighters that ushered in the era of supersonic military aircraft. The F-100, also known as "the Hun," served in a variety of roles including air-to-air fighter, attack fighter and also served on several demonstration teams.
Designed by multi-time Top Gun Champion David Ribbe, the model F-100D is brought to life in a convenient, yet uncompromised package. David spent countless hours on every detail, from the complicated aerodynamics of the intake and tail pipe, to the smallest of scale markings, not only to provide scale realism, but also incredible flight performance.
With two color scheme options available, you can emulate your favorite Thunderbird, or take your camouflaged F-100D back to that bombing mission in Vietnam. Both trim scheme variants include premium water slide decals so you can customize your F-100D with various squadron variants or select your favorite Thunderbird to represent. All other common decals come applied at the factory.
The Aura 8 Advanced Flight Control System comes programmed and installed in the F-100D, making setup a breeze. This highly-refined 3-axis gyro makes the F-100 fly like it is a larger aircraft and in less wind. Thanks to the Aura's advanced implementation, it not only enhances the flying experience, but it never interferes with the Pilot's control.
These features combine to offer a jet that carries energy, flies big and performs more like a large turbine jet than a typical foam EDF. Want a scale EDF experience like no other? The Flex Innovations F-100D is the ticket to uncompromised scale EDF performance.
SUPER PNP FEATURES INCLUDED:
3-Axis Gyro system Programmed and Installed (Aura 8 AFCS)
Expertly Engineered Ducting and Inlet Lips
Electric Retracts with Gear Door Sequencer (installed)
CNC-Machined Shock-Absorbing Main Struts with Trailing Link Nose Gear Strut (installed)
Ball-Link Connections on all Flight Control Surfaces
Ball Bearing Supported and Mass-Balanced, All-Moving Stabilizers
Navigation and Anti-Collision Lights (Installed)
Removable Scale Drop Tanks (2 Included)
Removable Scale Bombs (4) Included with the Camouflage Variant
Large Battery Compartment with Single Latch for Easy Battery Access
EPO Foam Construction with Additional Carbon and Plywood Reinforcement in Key Areas
11-Blade, 90mm Ducted-Fan (installed)
Potenza 60BLDF 1600kV Brushless Outrunner Motor (installed)
V-Good 100A ESC with 8A External Switching BEC (installed)
(7) Potenza DS-15 digital Metal Gear Flight Control Servos (installed)
(2) Potenza DS-12 digital Servos For Gear Doors and Nose Wheel Steering (installed)
3 to 5 Minute Flight Times Depending on Battery and Throttle Management
Fits a Wide Array of Batteries, from 4200 to 6200mAh (6S)
Technical data
| | |
| --- | --- |
| Airfoil: | - |
| Building Skill: | Fortgeschritten |
| Control: | H,S,Q,M,LK,EZFW |
| Drive Type: | Electro |
| Empty weight approx. (g): | - |
| Flight Skill: | Profi |
| Flight weight approx. (g): | 3360 |
| Fuselage: | EDF |
| Manufacturer: | Flex Innovations |
| Rec. Battery: | 6S/4200-6200mAh LiXX |
| Type: | 1410 |
| Version: | PNP- PLUG N PLAY |
| Wing-span (mm): | 1162 |
| Wings: | EDF |
| grün: | 9775436 |
| recommend Motor: | Included |
| silber: | 9775435 |
Box contents
- F-100 Impeller Jet
- Potenza 60BLDF 1600kV brushless external rotor motor (installed)
- V-Good 100A ESC with external 8A switching BEC (installed)
- Potenza DS-15 digital metal gear servos(installed)
- Potenza DS-12 digital servos
- Navigation and anti-collision lights
- 3-axis gyro system
- English operating instructions


Technical data
Videos
Das Produkt F-100D SILBER E-IMPELLER JET von PREMIER AIRCRAFT in der Kategorie Electric Jets hat eine Spannweite von 1162 sowie ein Gewicht von 3360. Die Steuerung des Modells erfolgt über die Funktionen H,S,Q,M,LK,EZFW. Das Modell ist als PNP- PLUG N PLAY ausgeführt . Wir empfehlen einen 6S/4200-6200mAh LiXX Akku für dieses Elektroflugmodell.
* Erklärung Steuerfunktionen:
H ... Höhenruder
S ... Seitenruder
Q ... Querruder
M ... Motorsteuerung
V ... Vektorsteuerung
LK ... Landeklappen
SK ... Störklappen
WK ... Wölbklappen
EZFW ... Einziehfahrwerk
SKU ... Schleppkupplung
( ) ... optional - in Klammer geschriebene Steuerfunktionen sind bei dem beschriebenen Modell optional verfügbar