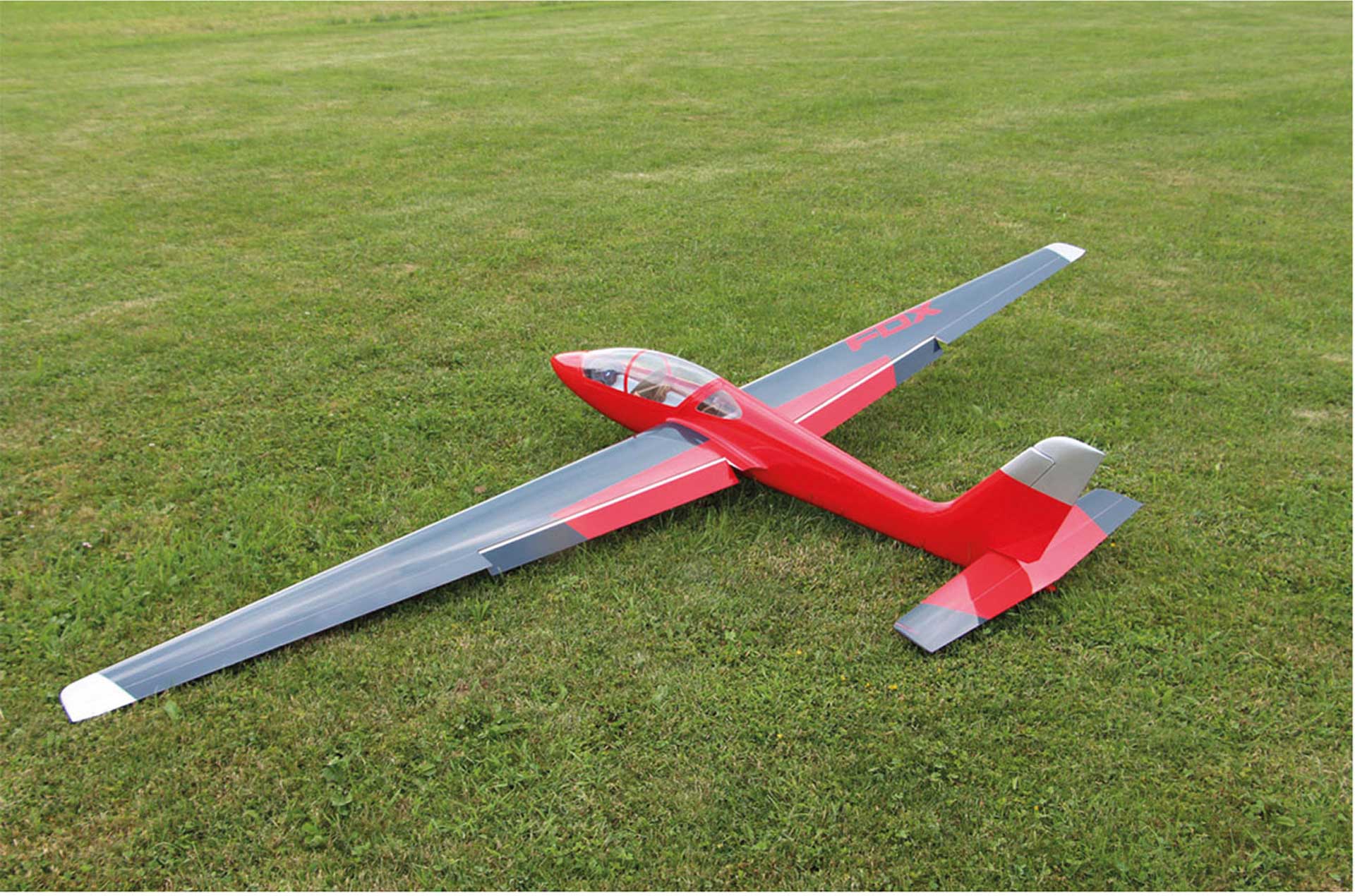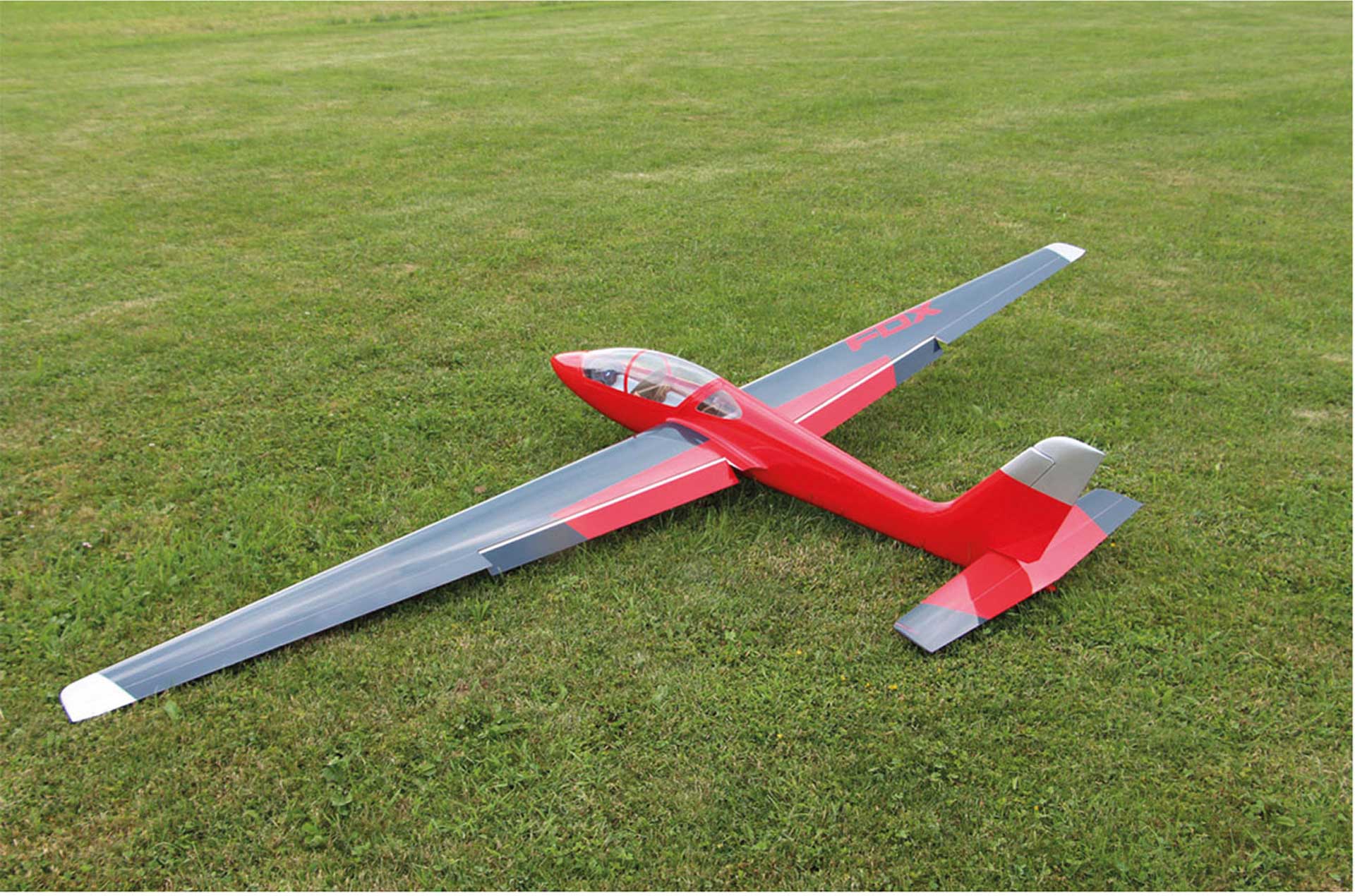 Only a few left in stock, ready for shipment within 1 working day. Delivery time 1-3 working days.
Downloads
Description "ROBBE MDM-1 FOX 3.5 M FULL COMPOSITE PNP ACROBATIC ELECTRIC GLIDER"
The MDM-1 FOX is a two-seater aerobatics legend in the man-bearing as well as in the model building sector. There are good reasons for this, because the aircraft was developed for uncompromising aerobatics and offers many possibilities for expansion (EDF or turbine drive). The potential of the FOX is far-reaching!
The full composite kit, painted in the form, offers all the prerequisites for this and has received numerous carbon reinforcements, which have been tested and approved by us.
We have deliberately opted for the 1:4 scale in order to offer you a compact, pure-bred aerobatic glider with the flight characteristics of a large model. Therefore we have deliberately chosen a 4-flap wing in order to offer you the possibility to adjust the profile according to the flight conditions and to increase the manoeuvrability around the longitudinal axis in aerobatics.
The surface plug-in consists of an 18x1mm aluminium tube with an internal solid carbon fiber rod. The supplied parts of the cockpit even allow a model-like removal at your own discretion.
The flight characteristics can be classified as extremely good-natured. The FOX flies in every situation, such as in aerobatics where it reacts agile and dynamic.
features:
Wing and tailplane in composite shell construction with carbon reinforcements
Composite fuselage with carbon reinforcements
model painted in the mould
Wing pluggable by means of aluminium-CFK-rod
ailerons, flaps and elevator as elastic flaps, rudder as concave groove
Wing profile: HQ/W 2.5/11
tailplane profile: NACA 0010
Technical data
| | |
| --- | --- |
| Airfoil: | - |
| Ausführung: | PNP- PLUG N PLAY |
| Bauerfahrung: | Anfänger |
| Control: | H,S,Q,M,WK |
| Drive Type: | Electro |
| Empty weight approx. (g): | - |
| Flight weight approx. (g): | approx.6470g(Flight) |
| Flugerfahrung: | Fortgeschritten |
| Fuselage: | Fiberglass/Carbon |
| Length (mm): | - |
| Manufacturer: | Robbe |
| Wing-span (mm): | 3500 |
| Wings: | Fiberglass/Carbon |
| empf.Akku: | 8S/4200mAh LiXX od. (2x4S) |
| empf.Motor: | Ro Power Torque 5062 |
Box contents
- FOX PNP multicoloured varnished
- Ro-Power 5062 305 K/V External rotor Motor built-in
- Propeller 15x11 mounted
- 4x FS 128 MG BB HV Digital Servo integrated
- Wiring in area per MPX plug completely assembled
- Canopy with pre-assembled canopy frame
- Aluminium tube, surface mounting, carbon reinforced
- 2x FS-525 BB MG HV servo built in
- Manual in german/english


Das Produkt MDM-1 FOX 3,5 M ELEKTRO PNP VOLL GFK von ROBBE in der Kategorie Electric Glider Models hat eine Spannweite von 3500 sowie ein Gewicht von 6470. Die Steuerung des Modells erfolgt über die Funktionen H,S,Q,M,WK. Das Modell ist als PNP- PLUG N PLAY ausgeführt . Wir empfehlen einen 8S/4200mAh LiXX od. (2x4S) Akku für dieses Elektroflugmodell.
* Erklärung Steuerfunktionen:
H ... Höhenruder
S ... Seitenruder
Q ... Querruder
M ... Motorsteuerung
V ... Vektorsteuerung
LK ... Landeklappen
SK ... Störklappen
WK ... Wölbklappen
EZFW ... Einziehfahrwerk
SKU ... Schleppkupplung
( ) ... optional - in Klammer geschriebene Steuerfunktionen sind bei dem beschriebenen Modell optional verfügbar
Die Firma ROBBE (benannt nach dem Firmengründer Robert Becker) wurde 1921 in Deutschland als Sägewerk im Vogelsberg-Gebiet gegründet. Mit dem Modellbau wurde ab 1945 begonnen, zunächst mit dem Import von Balsaholz. Ab 1958 bot ROBBE ein komplettes Programm für den Modellbau an. Dazu gehörten viele Innovationen im Bereich Fernsteuerungstechnik, aber auch moderner Kunststoffverarbeitung. Viele bis heute legendäre Produkte sind dieser Zeit entsprungen. In den 60er Jahren entstand eine enge Kooperation mit einem japanischen Fernsteuerungshersteller. Dazu gesellten sich mehrere Distributionen in vielen Bereichen des Modells. Unter anderem im Bereich Hubschrauber durch dir Übernahme der Marke Schlüter. Bis 2015 war das Unternehmen Robbe Modellsport GmbH & Co. KG im deutschen Grebenhain (Metzlos – Gehaag) ansässig und musst in diesem Jahr schließen. Aktuell befinden sich Produkte der Marke ROBBE im Vertrieb eines der größten europäischen Modellbauhändler.