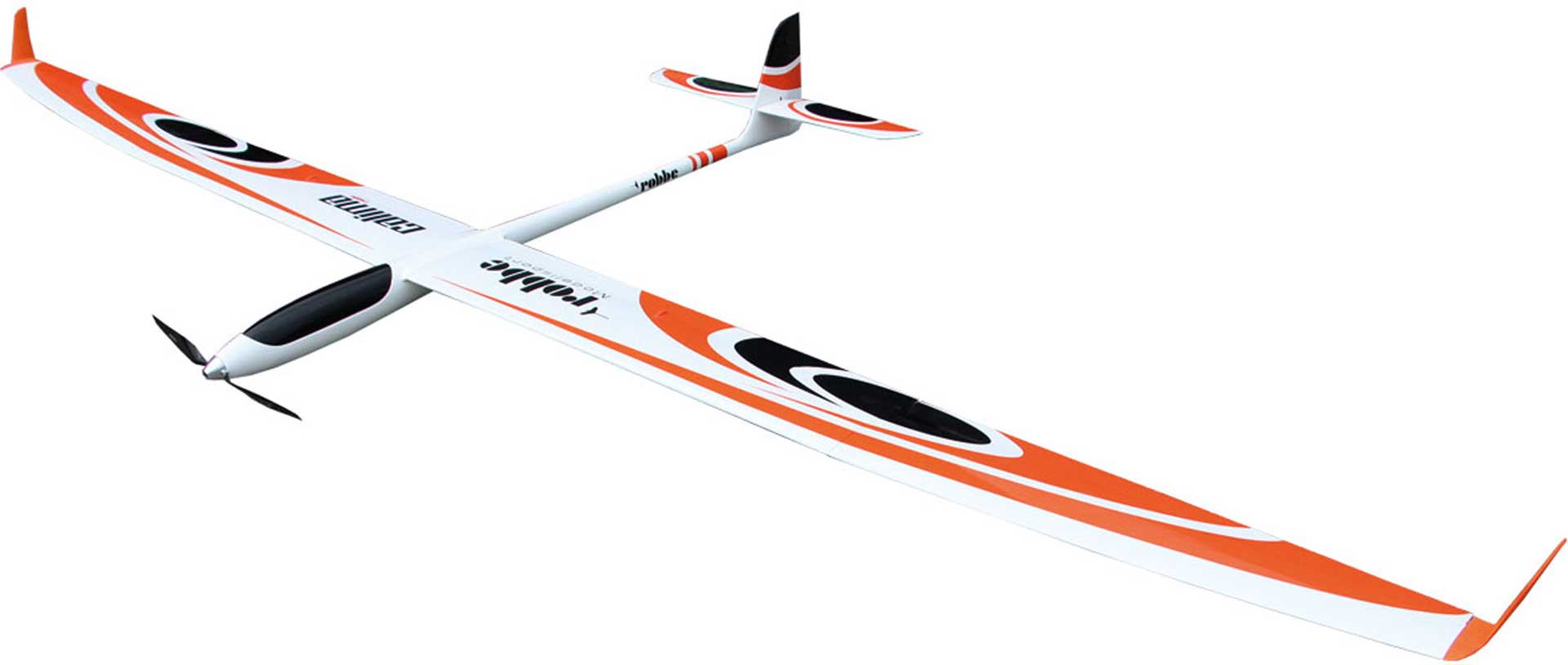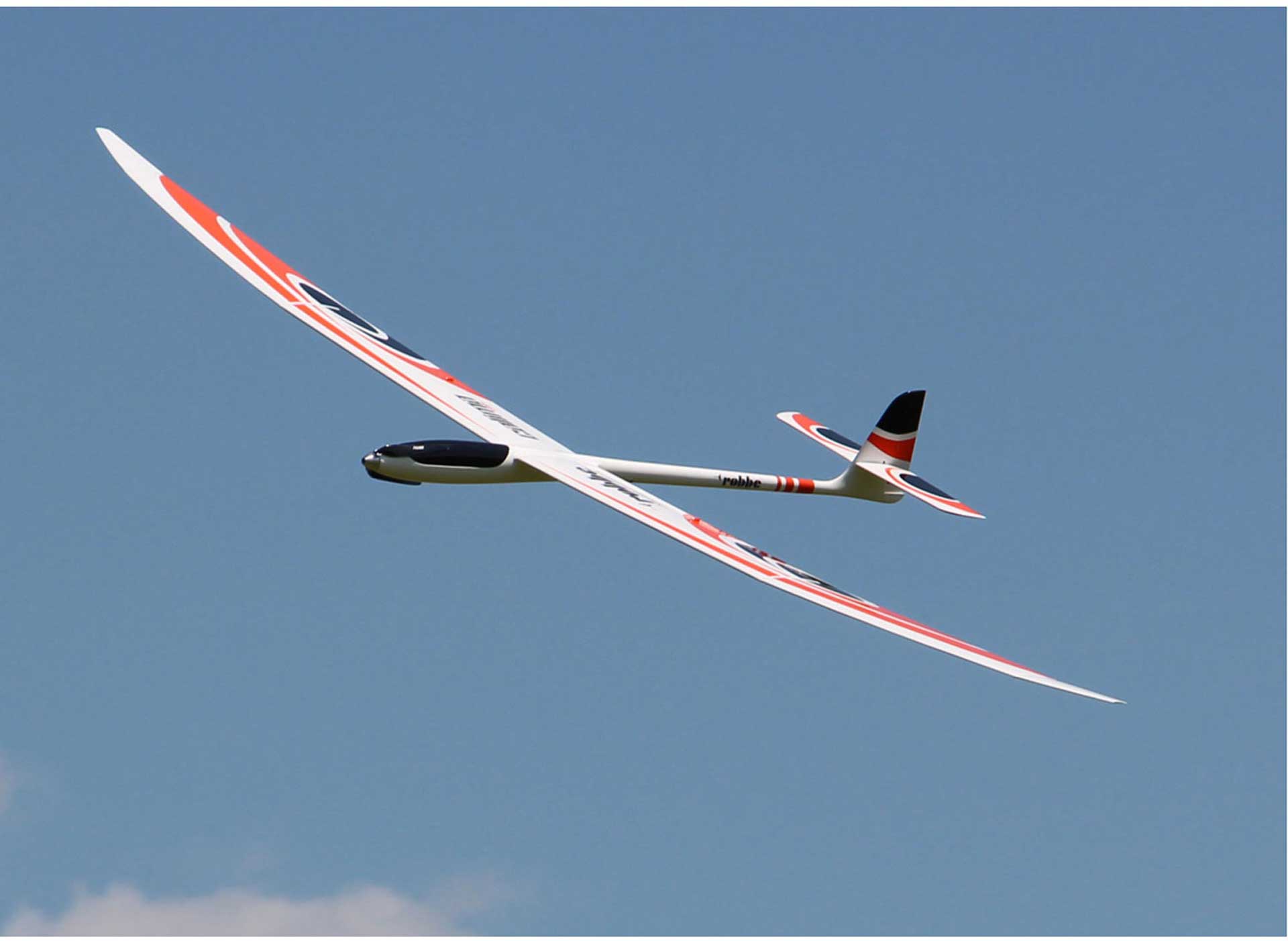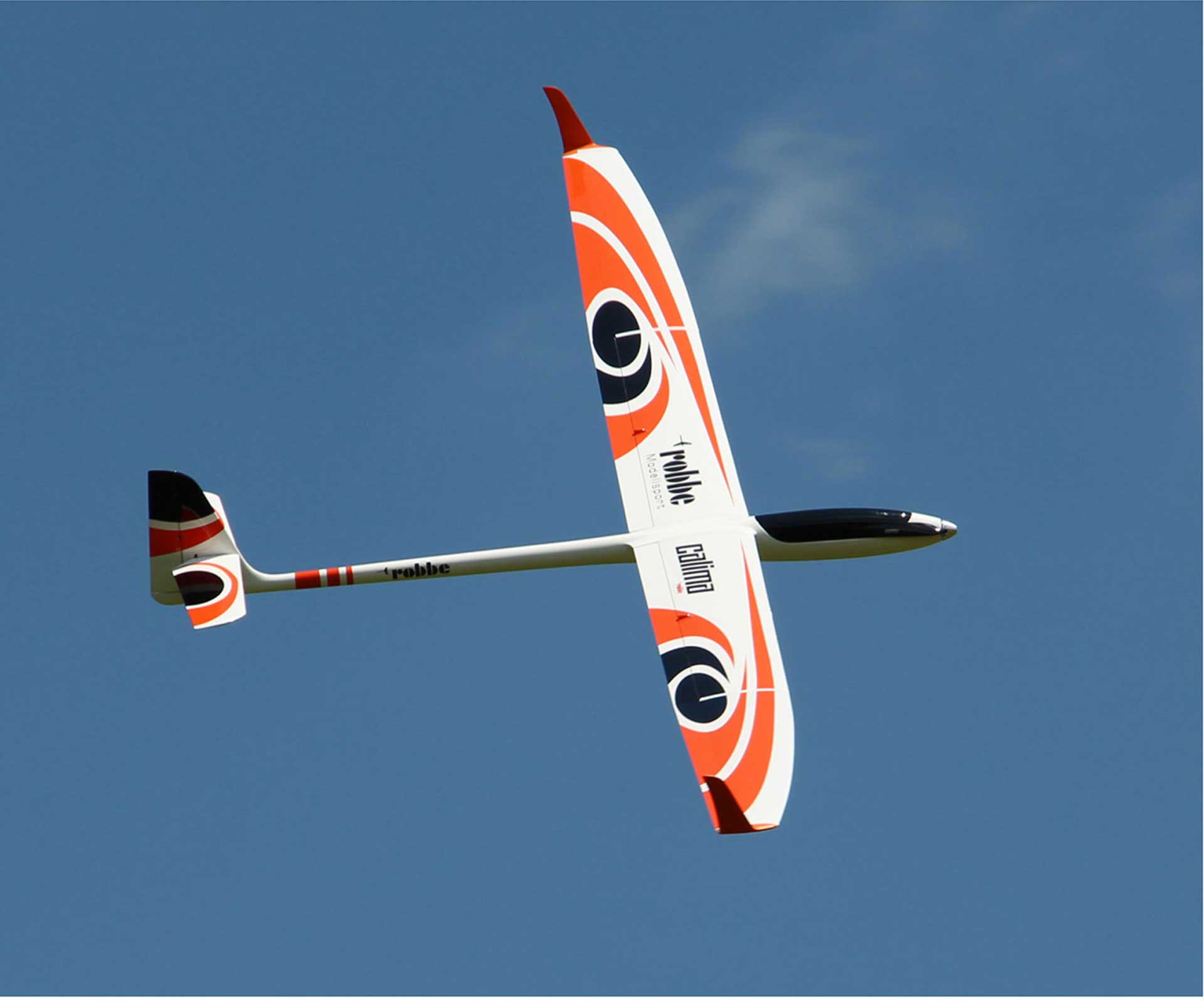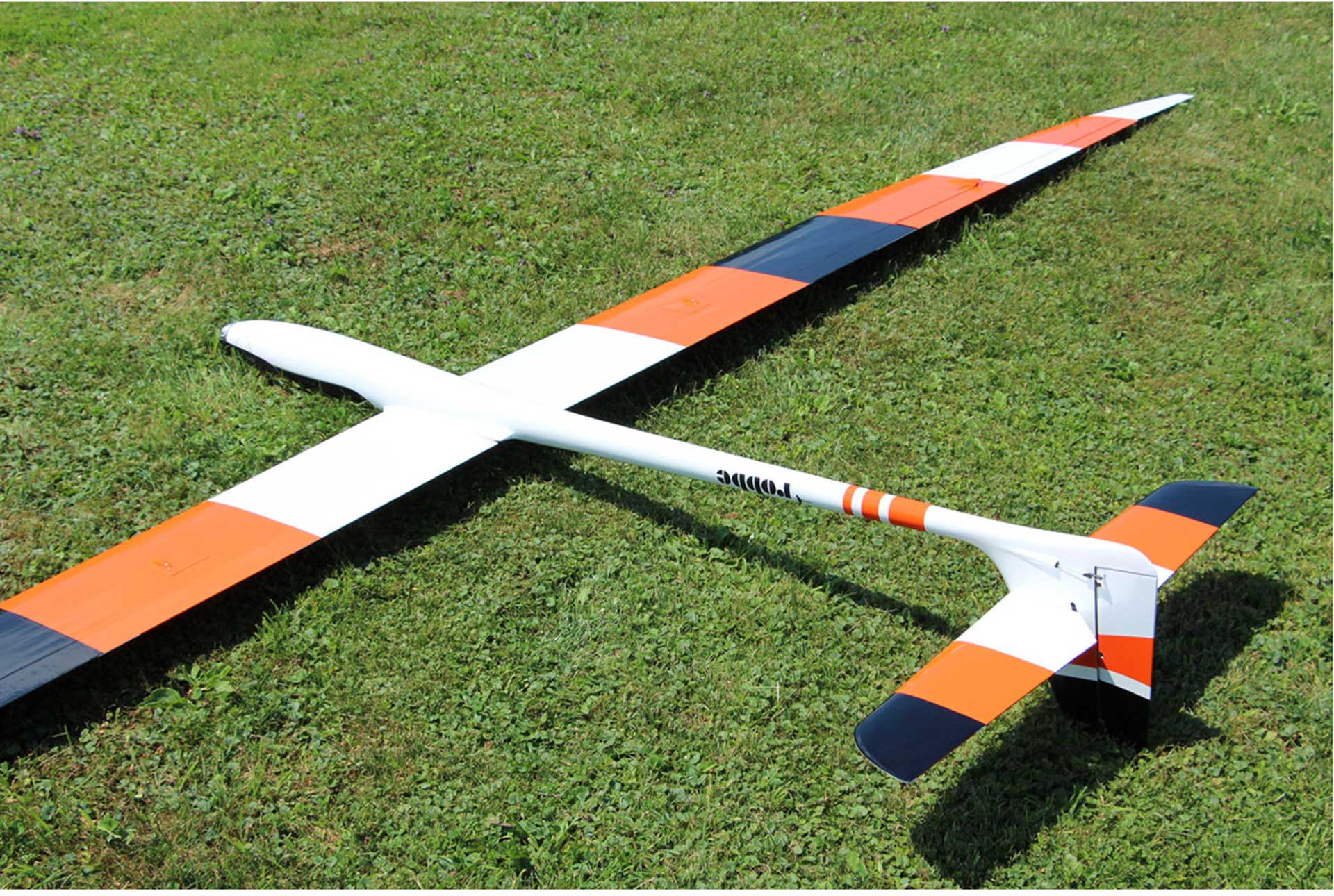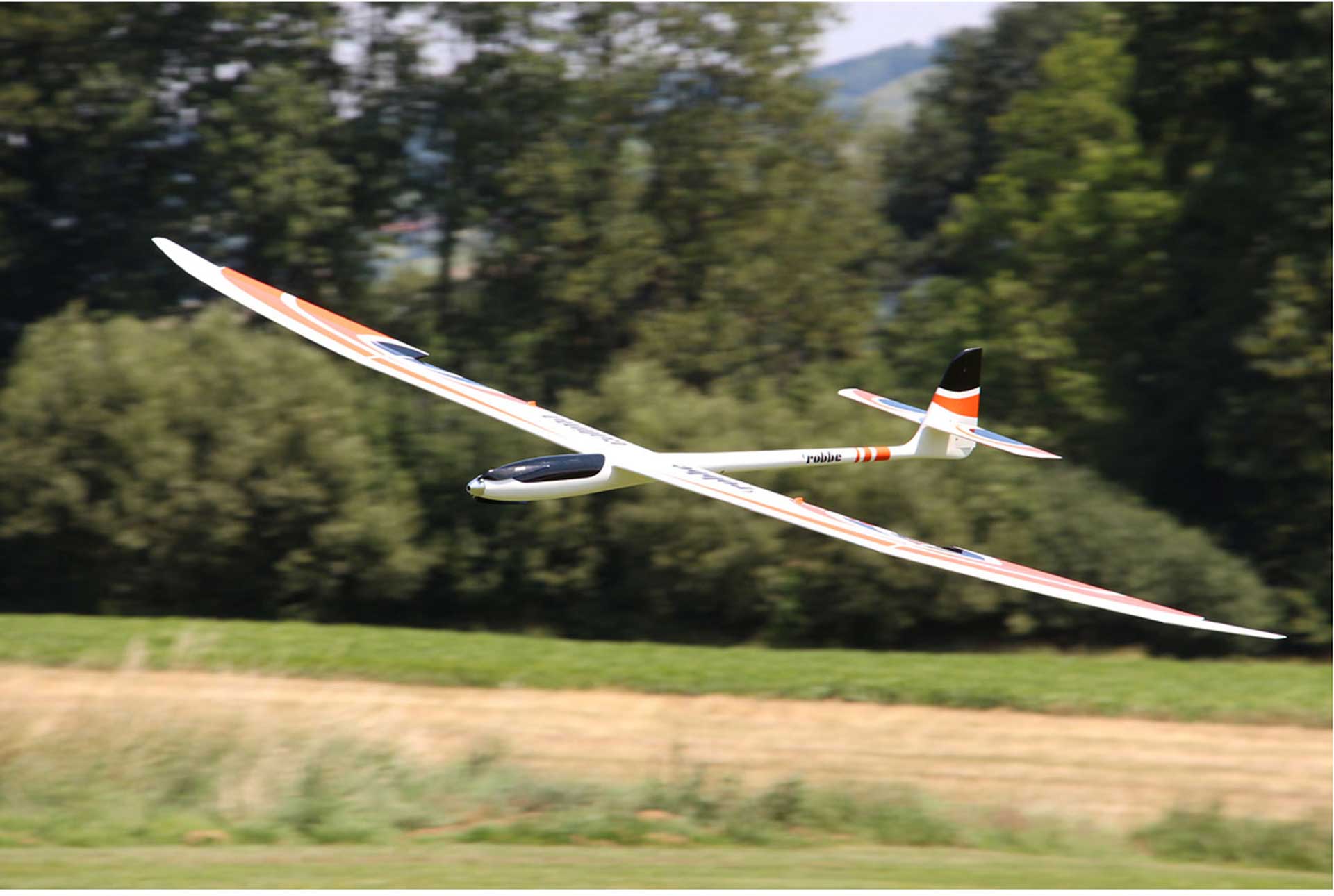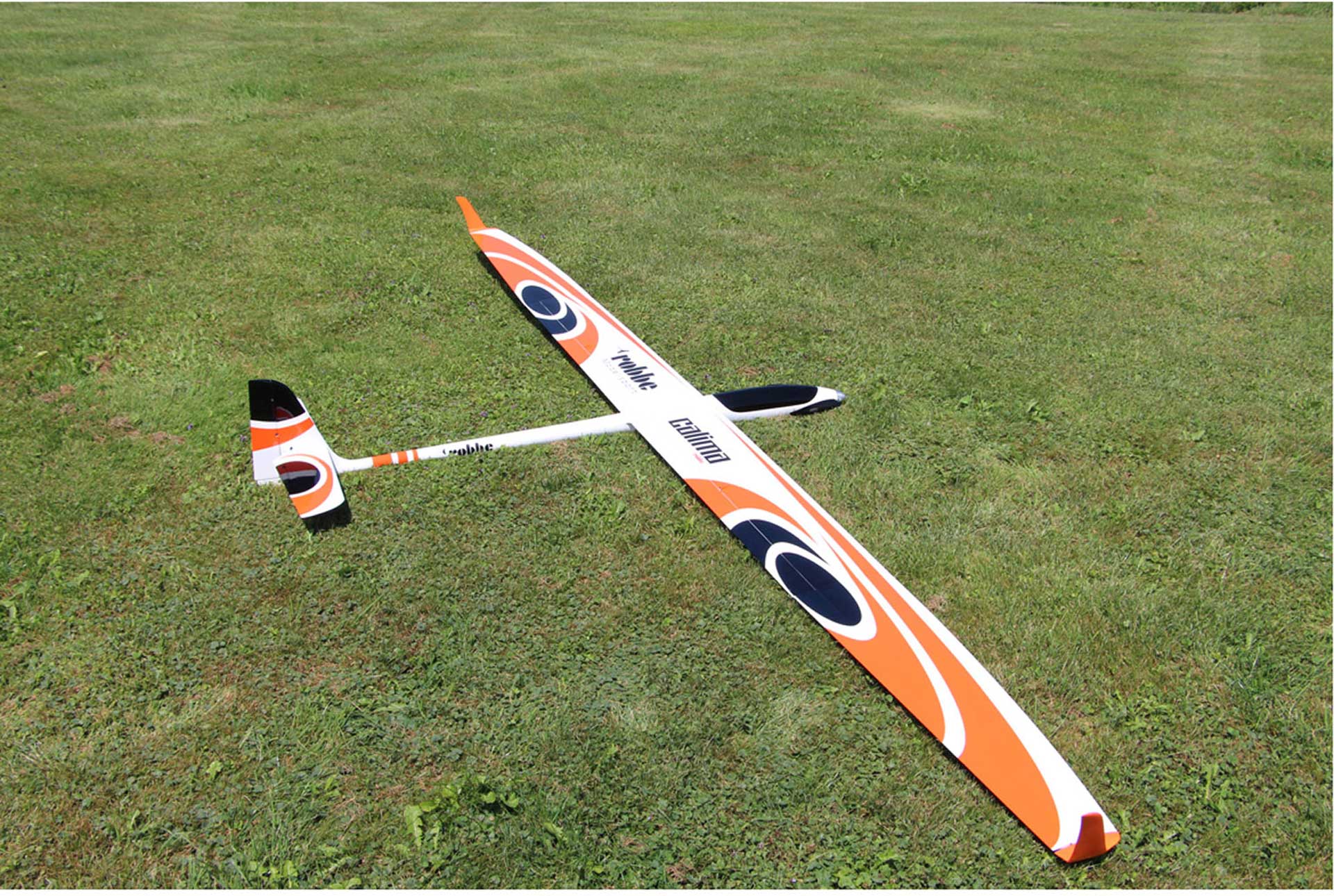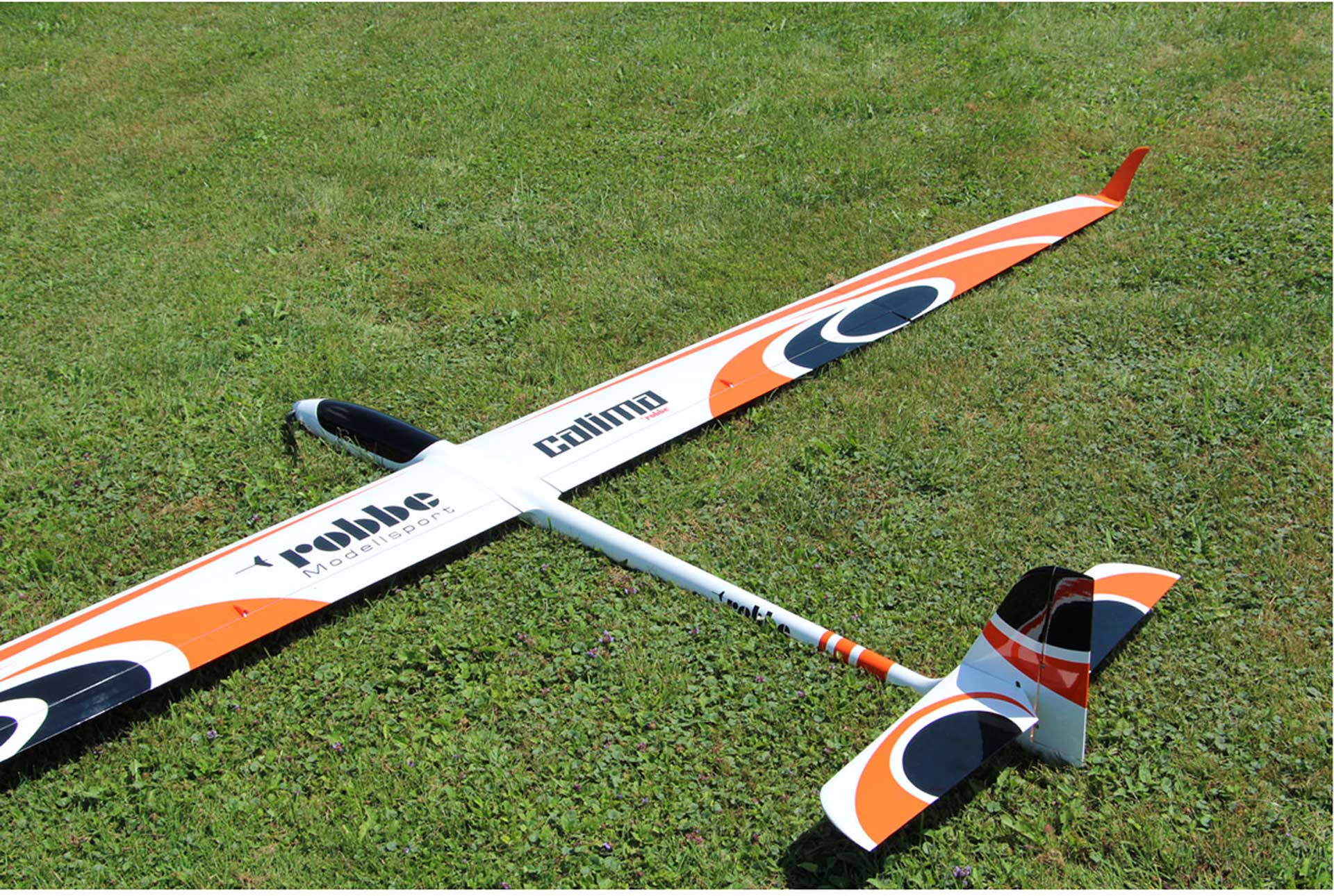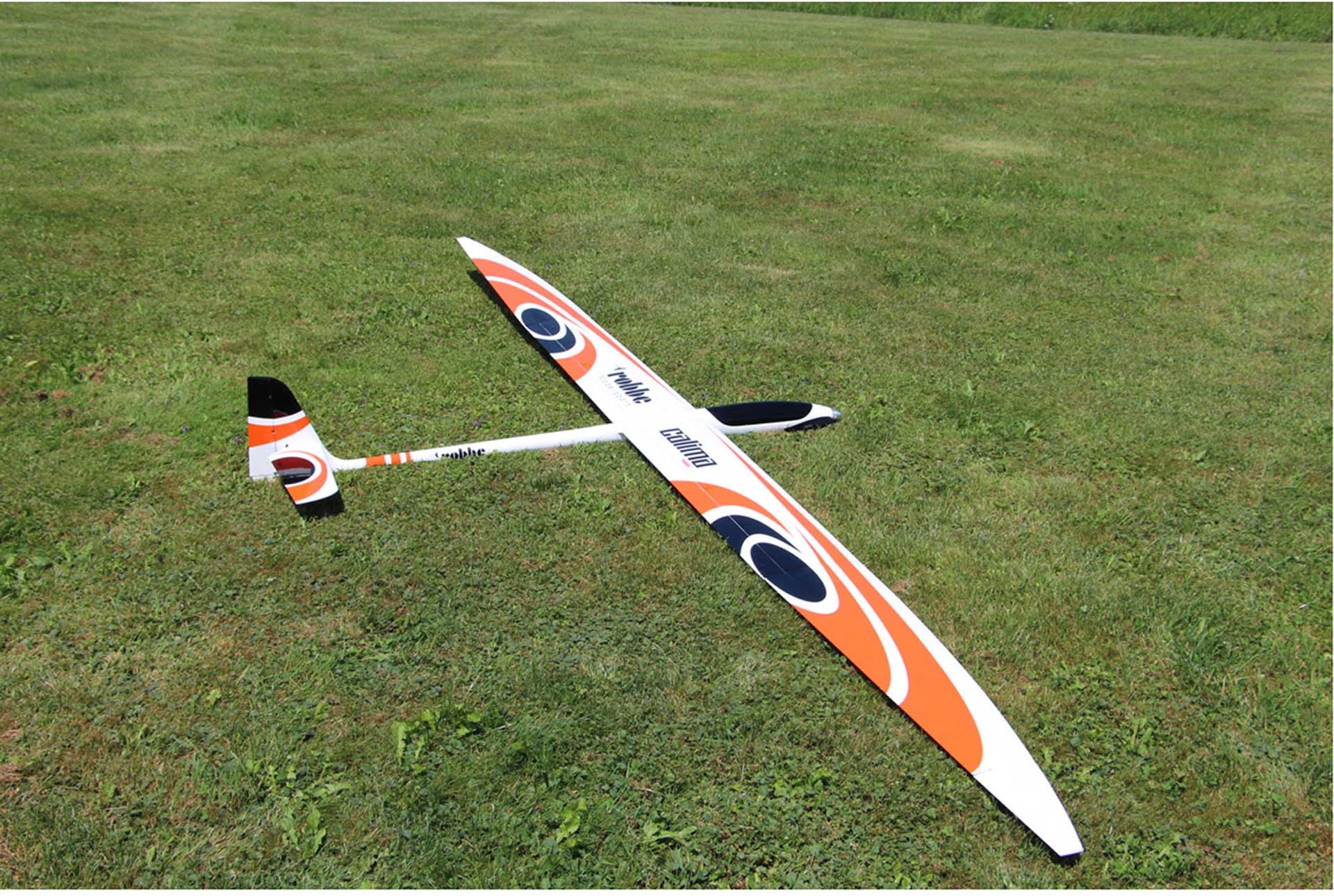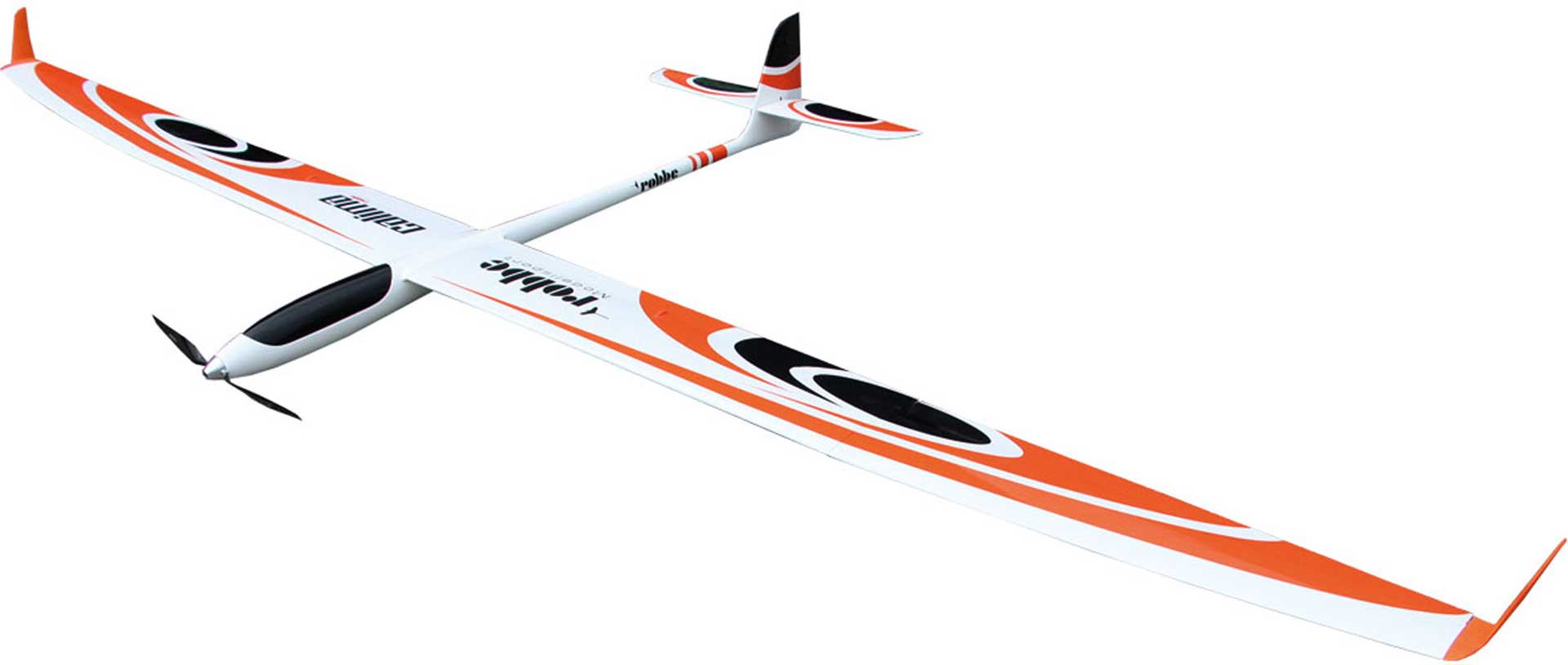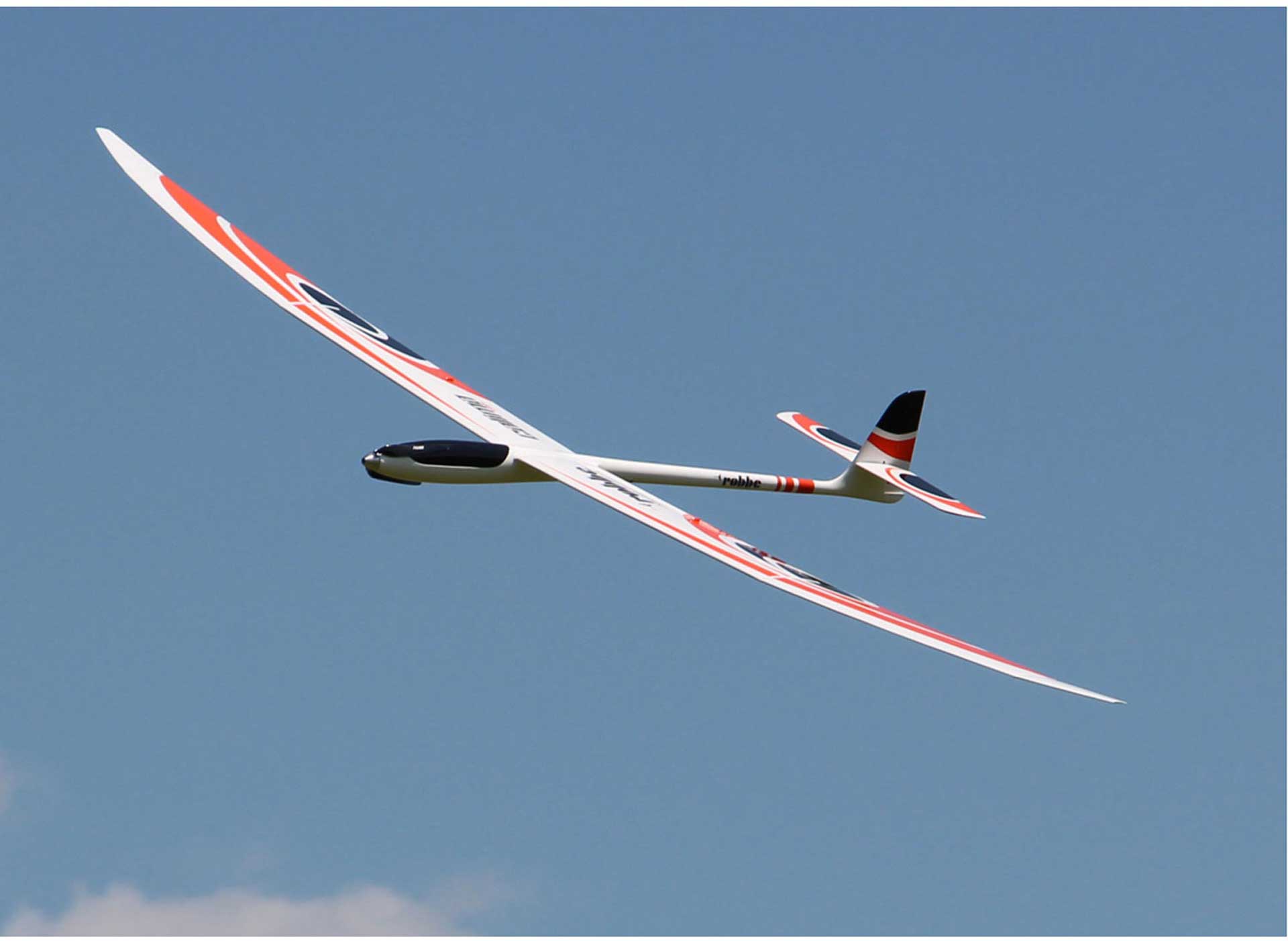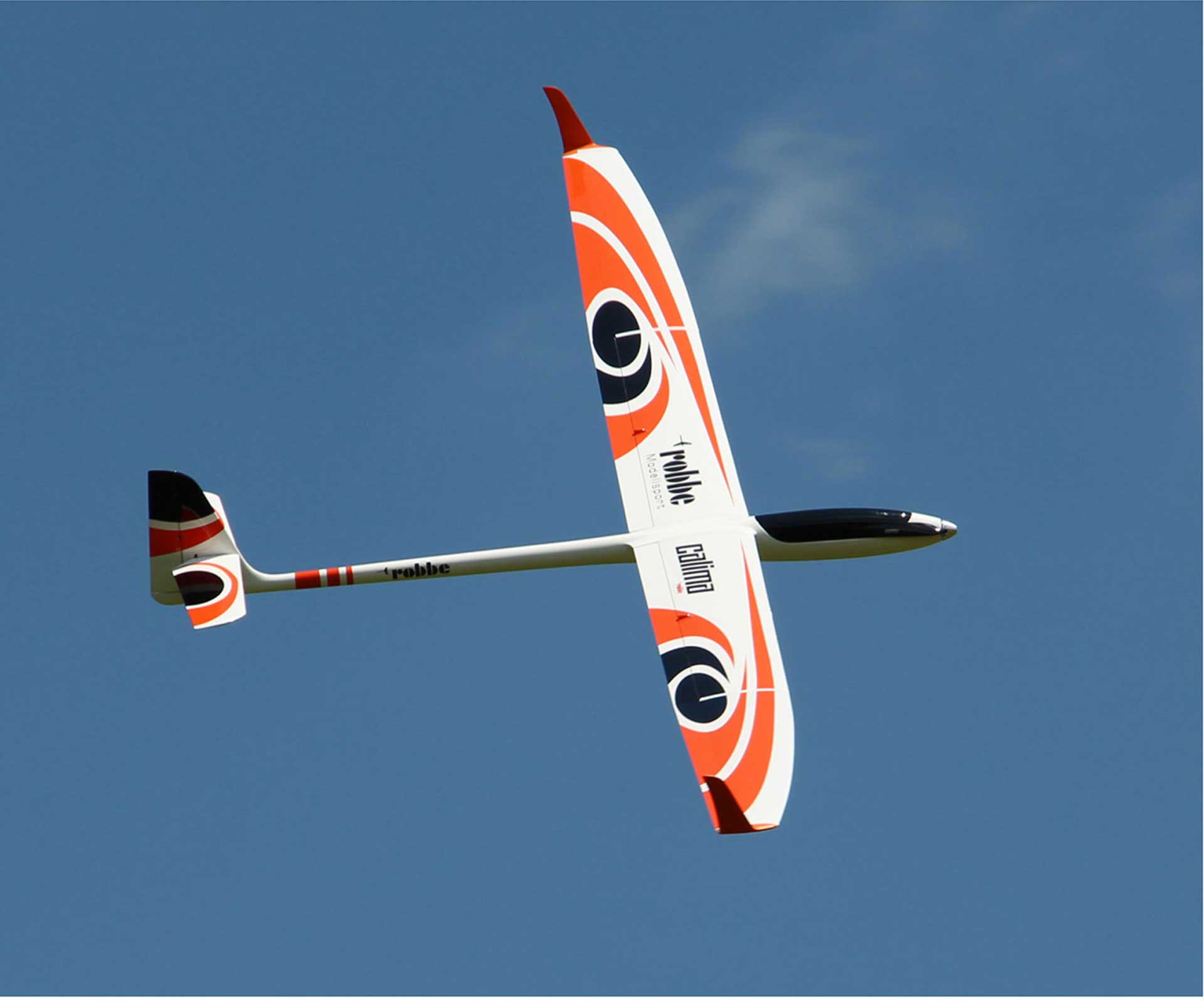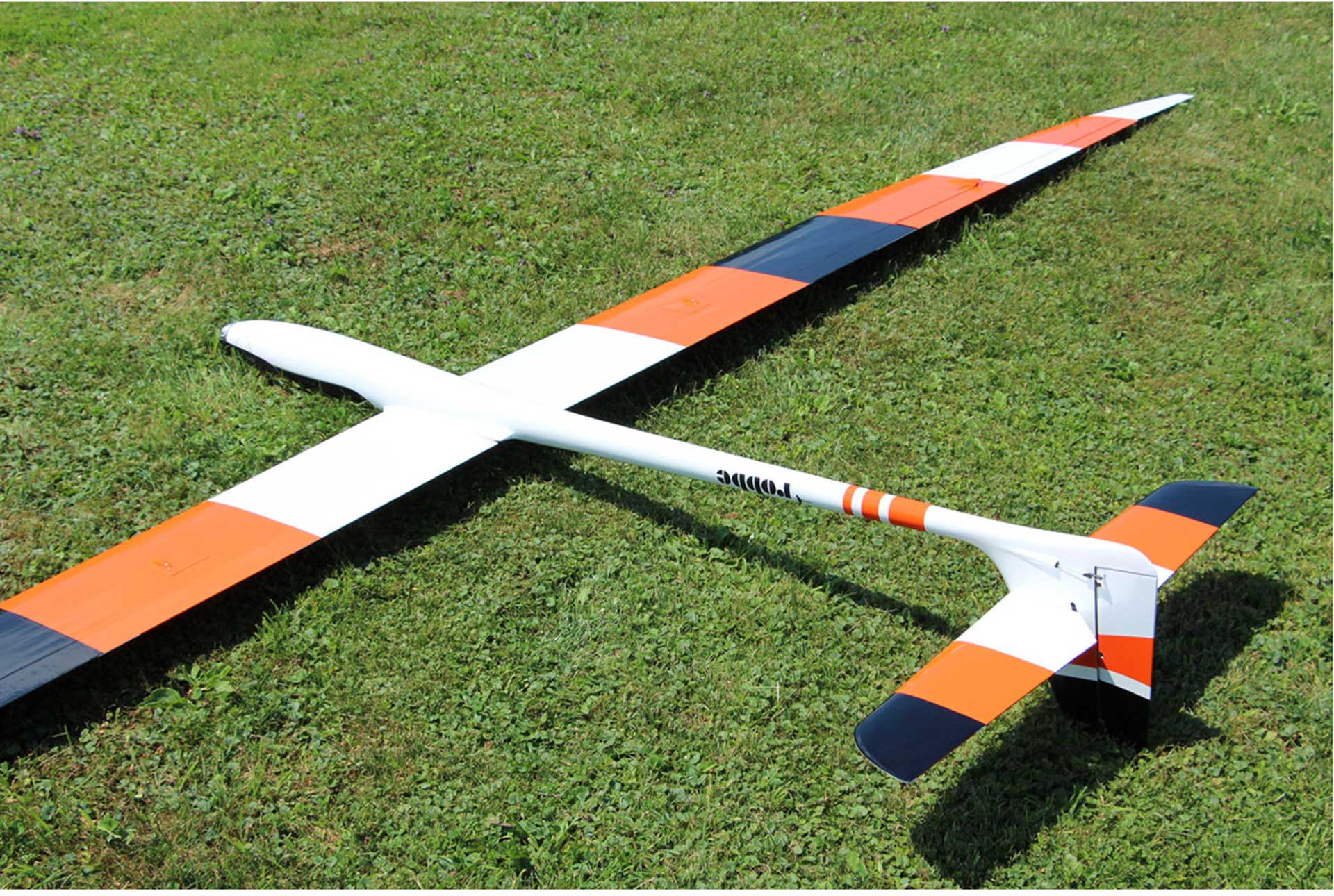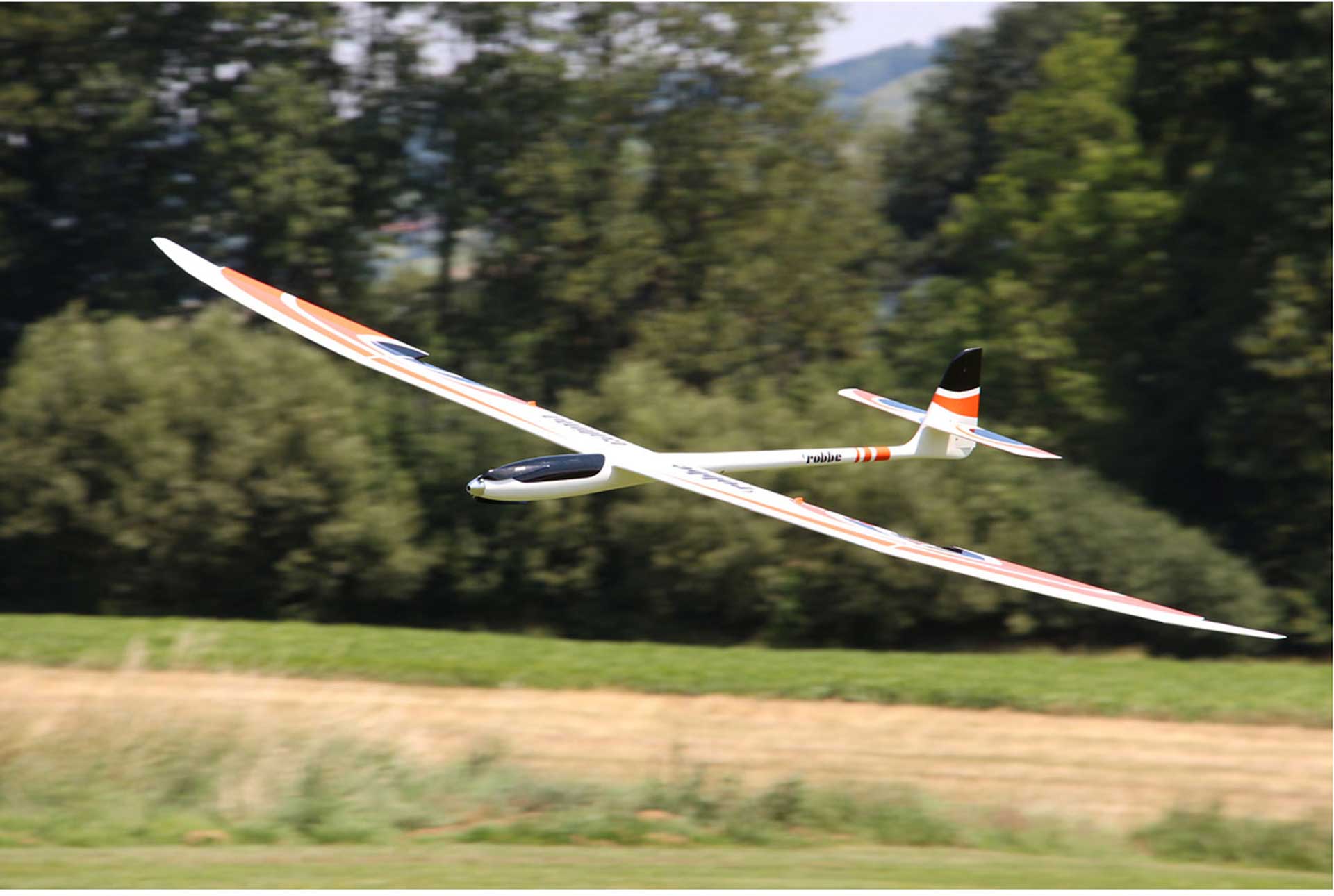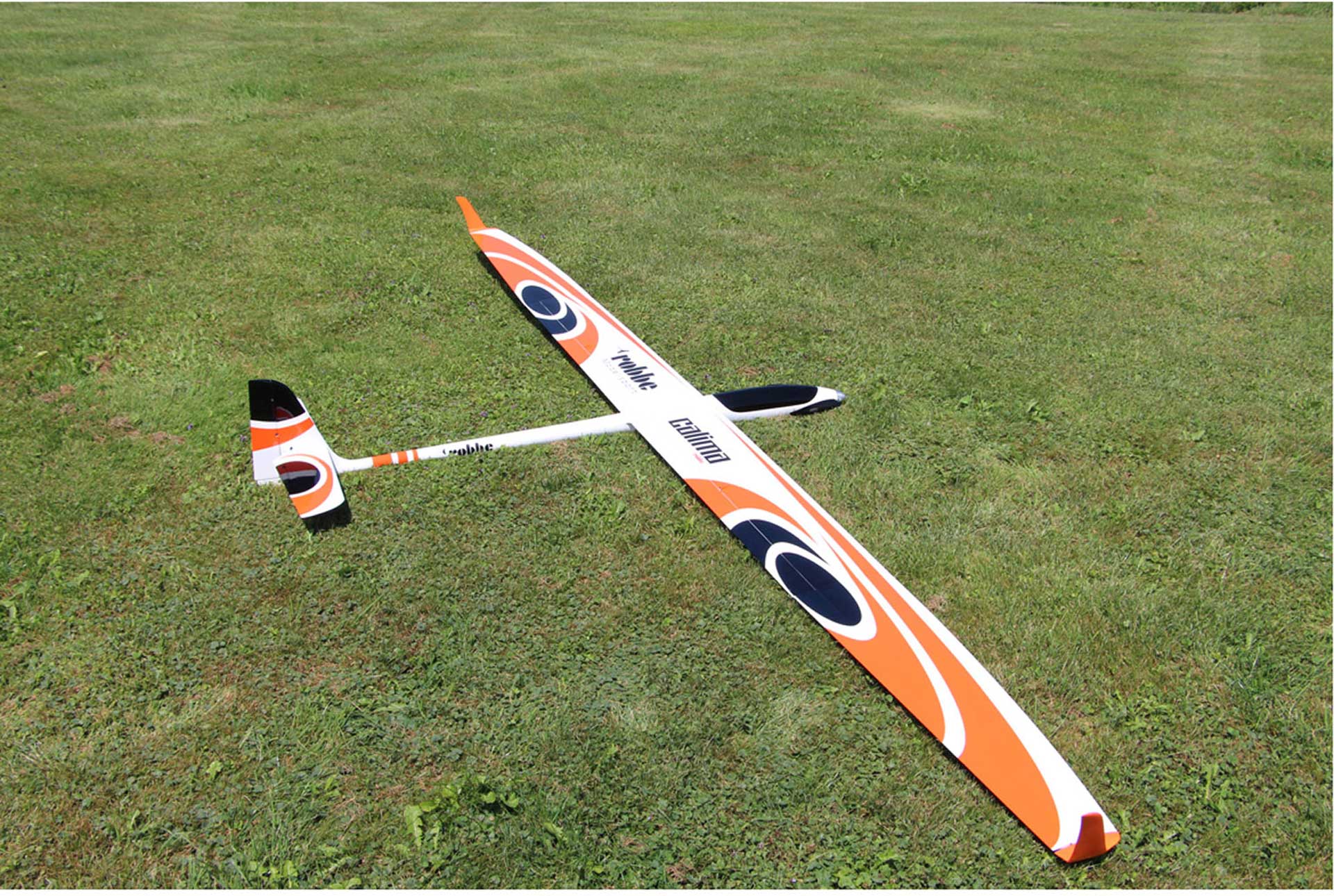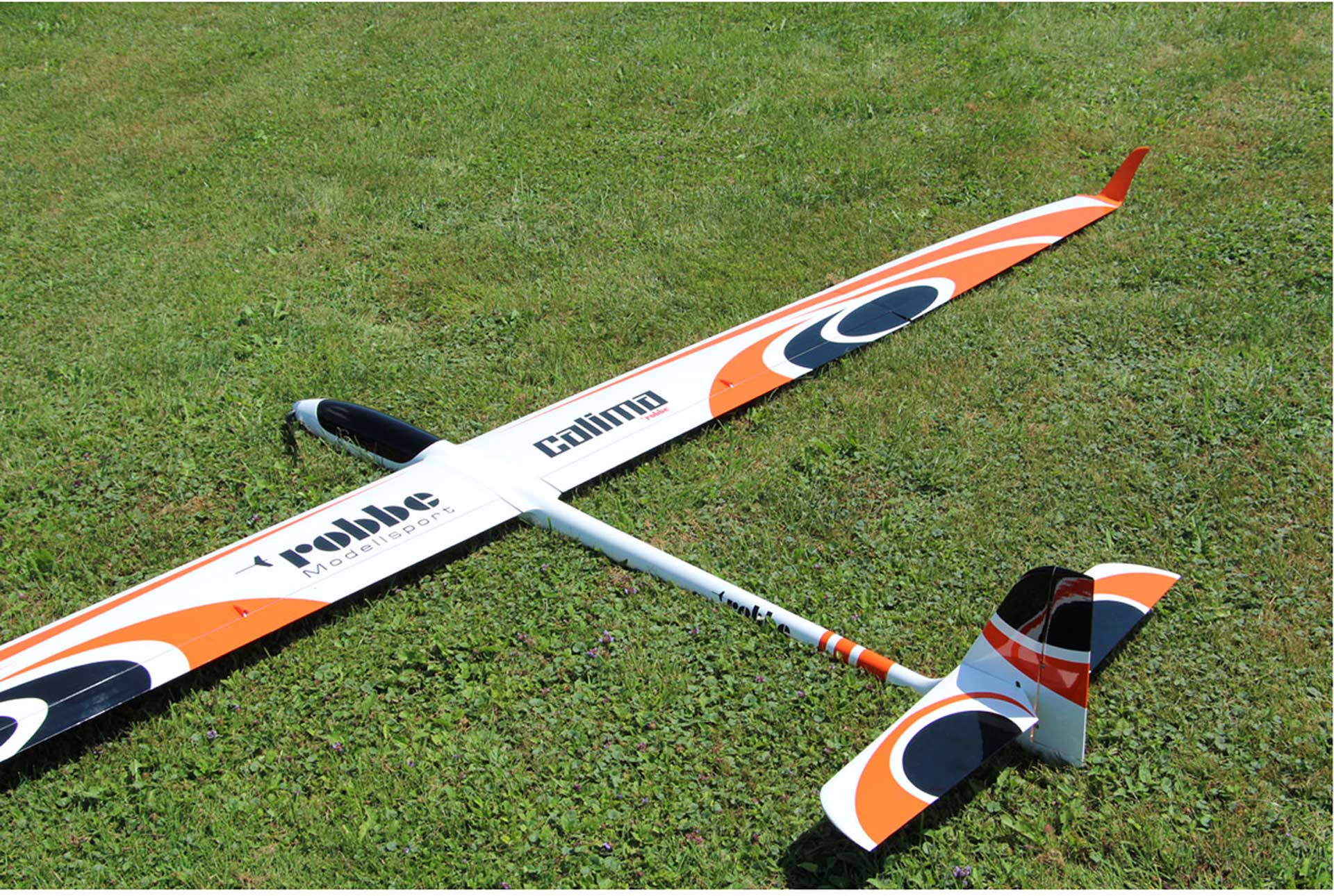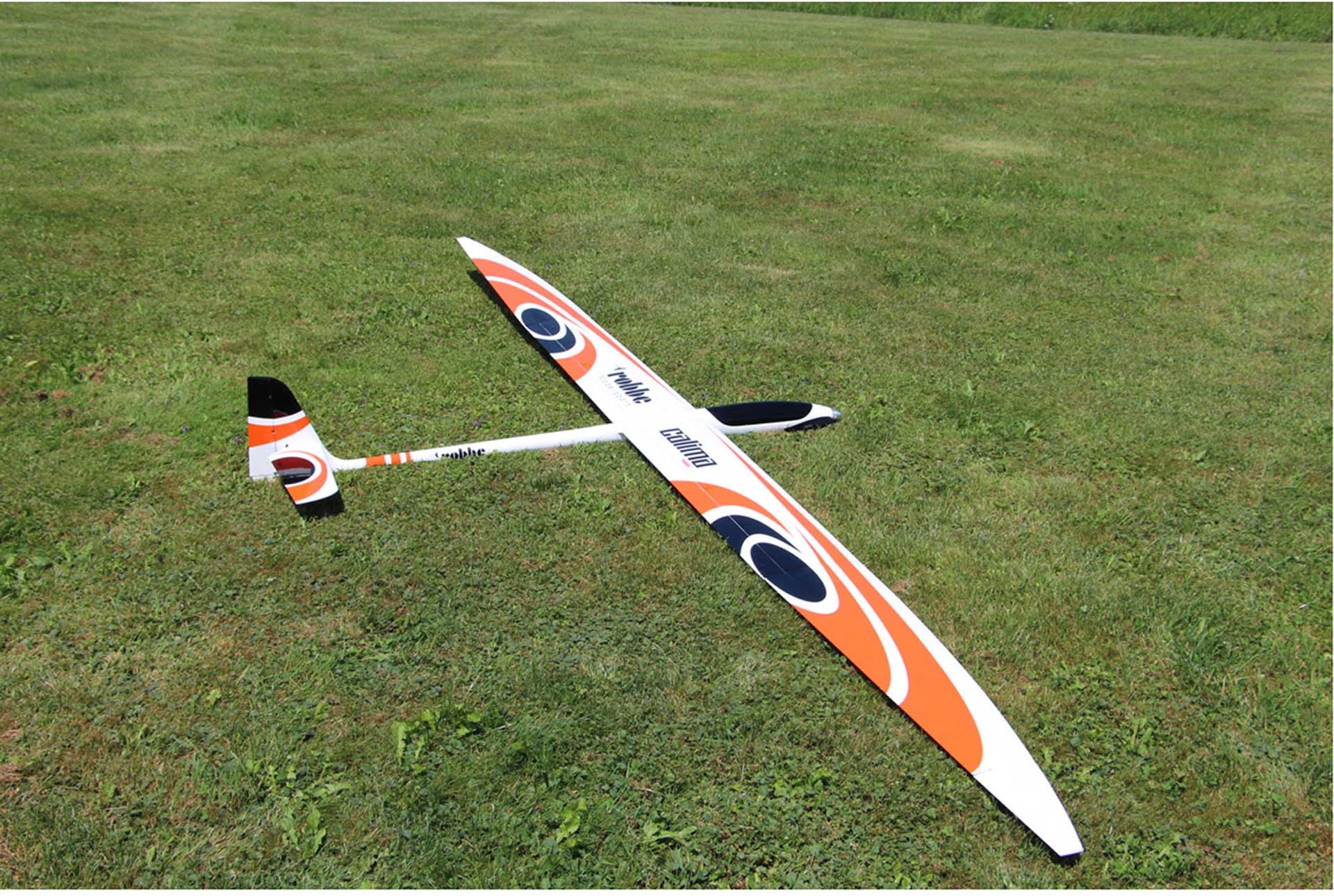 Only a few left in stock, ready for shipment within 1 working day. Delivery time 1-3 working days.
Downloads
Description "ROBBE CALIMA PNP HIGH PERFORMANCE GLIDER WITH 4-FLAP WINGS AND INTEGRATED SERVOS"
The CALIMA is the new thermal and all-round giant at Robbe. It has various attachable wing- or tiplets and is therefore easily variable in its wingspan (3800/4300 mm).

It can thus be adapted to different conditions and requirements of the pilot. The pendulum elevator is simply held in place by magnets on the fuselage on the connector. The PNP version comes with pre-installed servos, electrical connectors and original multilocks for wing protection. The flight characteristics can be described as extremely smooth.


The CALIMA can be flown as a slow thermal sniffer or as an allrounder with a little more speed. The fully covered wings are made of styrofoam, fibreglass layers, abachi planking and a carbon fibre reinforced spar. The ratio of weight and strength has been optimally achieved. The CALIMA is suitable for beginners as well as for advanced model pilots.

Features:
- four-part, ready to use Oracover covered Styro/GfK/Abachi surface with steel plug
- continuous sandwich spar (carbon-pine-carbon) for maximum bending stiffness
- built-in digital Robbe servos with ball bearings and full metal gearbox (PNP only)
- complete wiring of all servos with MPX 6-pin connectors between wing and fuselage (PNP only)
- ready ironed rudder flaps with mounted rudder horns
- painted GRP hull with built-in wooden bulkheads and CfK reinforcements
- powerful Ro-Power 4226 570 K/V external rotor, optimised for 4S (PNP only)
- large canopy for easy battery change
- already hinged rudder
- Prefabricated rudder linkages with linkage parts from German production
- pre-cut servo well and linkage covers
- anodised aluminium spinner with straight middle part (PNP only)
- high strength carbon fibre propeller 14x8" (PNP only)
- modern, highly visible design


Technical data
| | |
| --- | --- |
| Airfoil: | HQ 2.0/10 |
| Ausführung: | PNP- PLUG N PLAY |
| Bauerfahrung: | Advanced |
| Control: | H,S,Q,M,WK |
| Drive Type: | Electro |
| Empty weight approx. (g): | - |
| Flight weight approx. (g): | 4700 |
| Flugerfahrung: | Fortgeschritten |
| Fuselage: | Fiberglass |
| Länge (mm): | 1630 |
| Manufacturer: | Robbe |
| Wing-span (mm): | 3800 |
| Wings: | Styro/Abachi |
| empf.Akku: | 4-5S/4000-5000mAh LiXX |
| empf.Motor: | RO-POWER TORQUE 4226-570 (enthalten) |
Box contents
- Model CALIMA ARF, ready covered with Oracover
- lacquered GfK/CfK fuselage
- Elevator made of balsa with CfK/magnet plug connection
- Round steel plug for main wing and extension wing
- Ro-Power Torque 4226-570 built-in engine
- 6x FS 270 MG servos built-in
- Turbospinner 45mm mounted
- Folding propeller 14x8" mounted
- extension cord
- Small parts (rudder horns, rods, fork heads, covers, etc.)
- Instructions in German/English/French


Das Produkt CALIMA PNP HOCHLEISTUNGSSEGLER MIT 4-KLAPPENF von ROBBE in der Kategorie Electric Glider Models hat eine Spannweite von 3800 sowie ein Gewicht von 4700. Die Steuerung des Modells erfolgt über die Funktionen H,S,Q,M,WK. Das Modell ist als PNP- PLUG N PLAY ausgeführt . Wir empfehlen einen 4-5S/4000-5000mAh LiXX Akku für dieses Elektroflugmodell.
* Erklärung Steuerfunktionen:
H ... Höhenruder
S ... Seitenruder
Q ... Querruder
M ... Motorsteuerung
V ... Vektorsteuerung
LK ... Landeklappen
SK ... Störklappen
WK ... Wölbklappen
EZFW ... Einziehfahrwerk
SKU ... Schleppkupplung
( ) ... optional - in Klammer geschriebene Steuerfunktionen sind bei dem beschriebenen Modell optional verfügbar
Die Firma ROBBE (benannt nach dem Firmengründer Robert Becker) wurde 1921 in Deutschland als Sägewerk im Vogelsberg-Gebiet gegründet. Mit dem Modellbau wurde ab 1945 begonnen, zunächst mit dem Import von Balsaholz. Ab 1958 bot ROBBE ein komplettes Programm für den Modellbau an. Dazu gehörten viele Innovationen im Bereich Fernsteuerungstechnik, aber auch moderner Kunststoffverarbeitung. Viele bis heute legendäre Produkte sind dieser Zeit entsprungen. In den 60er Jahren entstand eine enge Kooperation mit einem japanischen Fernsteuerungshersteller. Dazu gesellten sich mehrere Distributionen in vielen Bereichen des Modells. Unter anderem im Bereich Hubschrauber durch dir Übernahme der Marke Schlüter. Bis 2015 war das Unternehmen Robbe Modellsport GmbH & Co. KG im deutschen Grebenhain (Metzlos – Gehaag) ansässig und musst in diesem Jahr schließen. Aktuell befinden sich Produkte der Marke ROBBE im Vertrieb eines der größten europäischen Modellbauhändler.